Cosm Chair
For an office chair that will feel like it was crafted just for you without a single adjustment, look to the Herman Miller Cosm. The Cosm Chair's adjustment-free support is its defining characteristic, a testament to its innovative design. Its Intercept suspension back, made of cooling elastomeric mesh, enables the Cosm to contour to your spine and respond to your body's movements effortlessly, providing comfortable support that isn't too soft or firm. The Cosm's Auto-Harmonic Tilt feature, in conjunction with its flexible glass-filled polypropylene frame, lets this ergonomic office chair breathe in motion with you, reclining as you do, no manual configuration required.
The lightweight Cosm silhouette is available in three chair sizes and two stool sizes, all offered with fixed arms, adjustable arms, or dramatically flared Herman Miller Cosm leaf arms. Each configuration has a swivel seat situated over a five-star caster base to maximize your mobility. Offered in six monochromatic colorways, including the iconic Herman Miller Cosm Carbon and Herman Miller Cosm Nightfall, the Cosm Chair is ideal for those who savor sleek simplicity over meticulous customization.
Cosm Chair Sizes
The Herman Miller Cosm Chair is available in three configurations, each with its own refined silhouette: low-back, mid-back, and high-back. Each configuration has a maximum weight capacity of 350 lbs and a depth of 26.7". The low-back Cosm is the smallest of the three, with an overall height of 40.25" and a width of 26.7". Its silhouette is the most reserved; however, its lower height doesn't diminish its state-of-the-art lumbar support and flexibility. The mid-back Cosm Chair is 45" tall and 28.9" deep, able to accommodate a wider range of body types and provide slightly more back support than its lower counterpart. The high-back Cosm Chair boasts the most commanding silhouette, stretching 51.25" tall to provide upper back and neck support where the other Cosm configurations can't. It's ideal for reclining and relieving pressure from your spine, joints, and muscles.
The Cosm Stool has two signature configurations, both higher than each of the Cosm Chair's three sizes. Where the Cosm Chair's seat height is 21", the Cosm Stool's seat height is a lofty 32.28". The Herman Miller Cosm Stool has a polished aluminum footrest encircling its base to provide support and relief to your legs. The Cosm Stool's two configurations are low-back and mid-back; the low-back configuration is 50.5" tall and the mid-back configuration is 55" tall. Both configurations are 26.75" wide and deep. To see how the Cosm compares to other ergonomic office chairs, explore all your office chair options from Herman Miller.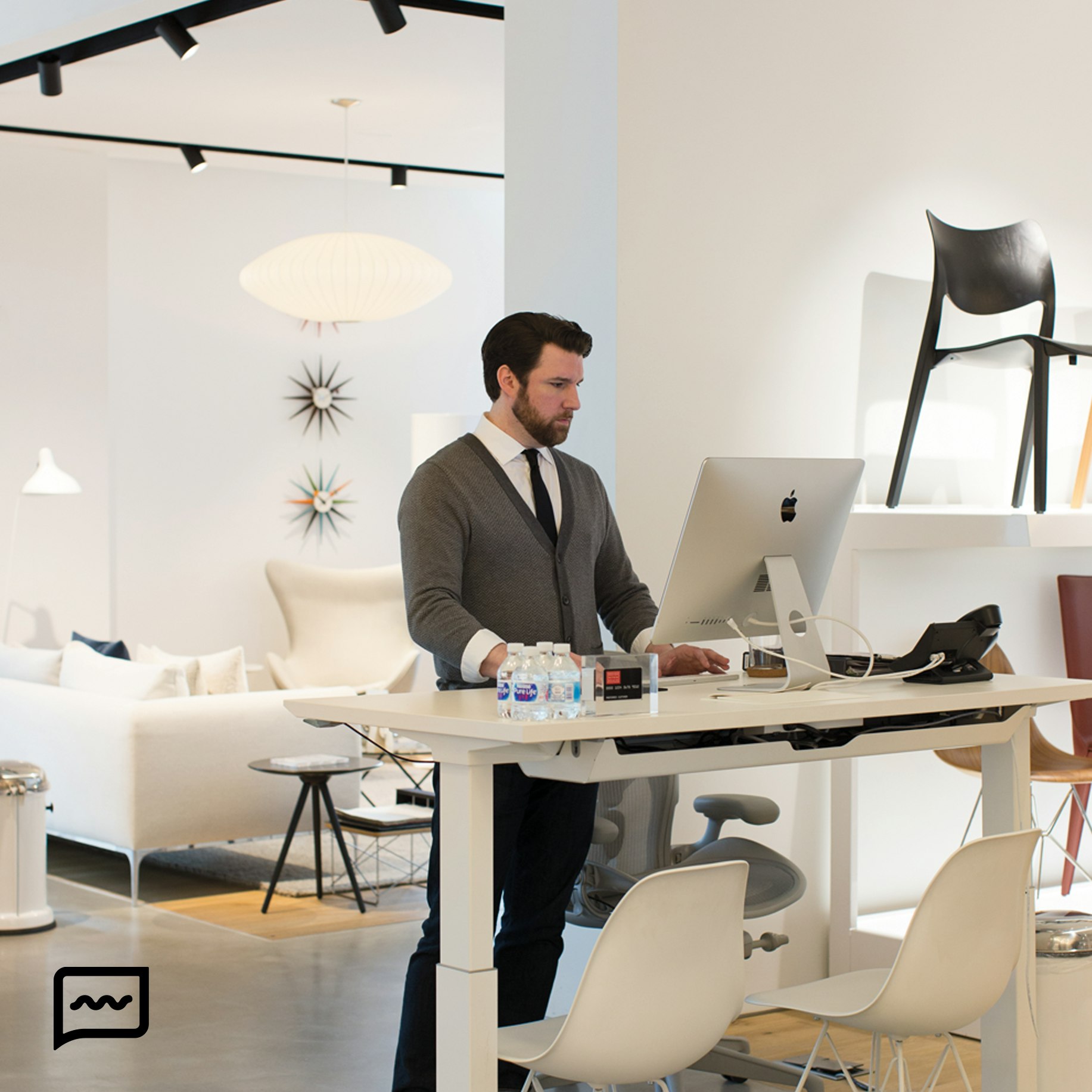 Any Questions So Far? We Can Help.
Chat instantly with a Performance Specialist to get advice, recommendations and answers to all your questions.