Home Office Organization & Storage
The importance of office organization in a home office can't be understated – office storage is essential to streamlining your workflow and ensuring that you can work at peak efficiency. With proper office storage and organization, you can be certain that everything you need to do your job is where it needs to be, easy to locate when you need it, and safely out of the way when you don't. Office organization solutions can be as grand as bookcases, storage credenzas, and filing cabinets or as small and clever as desktop organizer kits and stacking, folding crates. Discover design-oriented home office organization solutions of all shapes and sizes at Herman Miller.
Home Office Organization Essentials
Start your home office organization journey with the big picture: large office storage units that can hold most of your items as well, as additional home office essentials – including decor.
For book and file organizers, consider office storage cabinets like filing cabinets or office credenzas. Filing cabinets offer you a more traditional file storage solution and are often equipped with spacious sliding drawers with locks – great for sensitive documents. Or, step away from the simple silhouettes often associated with office filing cabinets and opt for a stylish mid-century modern office credenza or console with large compartments that can stow your bulkier essentials.
If you'd prefer to keep your home office essentials in view even when they're stored neatly away, go with a bookcase or storage unit with open components. These storage units can be decorative accents in addition to storage solutions – you can adorn them with decorative objects, inspiring books, plants, and other decor that will imbue your home office with life and personality that other storage solutions can't offer.
If you have a more active work style, consider a rolling cart organizer. Equipped with casters and multiple shelves, a rolling cart organizer can act almost like a helpful office assistant, going where you go with all of your home office essentials.
With your larger items out of the way, look to smaller desktop organizers, including desk organizer trays, utensil holders, catch-all crates, and drawer organizers. These office organizers can secure all your office supplies – pens, pencils, paperclips, sticky notes – where they're easy to access at all times. Drawer organizers are excellent for preserving valuable desk space. For more desk accessories, shop all desk accessories and organization at Herman Miller.
Home Office Organization & Storage From Herman Miller
Herman Miller offers a wealth of storage solutions that can revolutionize your home office setup, starting with iconic bookcases like the Story Bookcase and shelving unit and the Eames Storage Unit, available in four sizes to suit a variety of home office storage and organization needs. Optimal for large offices that could benefit from a little extra decor, office bookcases like these can display books, decorative objects, sculptural home accents, and more.
For your traditional filing needs, choose classic-looking filing cabinets from the Tu W-Pull series. Or, for a mid-century modern twist, opt for the Line File Pedestal, which is available in a collection that also includes office credenzas and consoles. You can also shop sleek modern office credenzas and consoles from the Edel and Morrison lines, or shop large drawer- and cabinet-equipped office cabinets from the expansive Nelson collection.
Herman Miller storage solutions also include the OE1 Trolleys, organizer carts that can double as bar carts if need be. Don't forget to shop desktop organizers and desk accessories for your smaller items – stackable HAY Colour Crates can be quintessential home office organizers for all kinds of office supplies. Also consider office desk organizers from the Formwork and Ubi collections, which can serve a multitude of purposes, especially when combined. For more, browse all home office organization and storage from Herman Miller.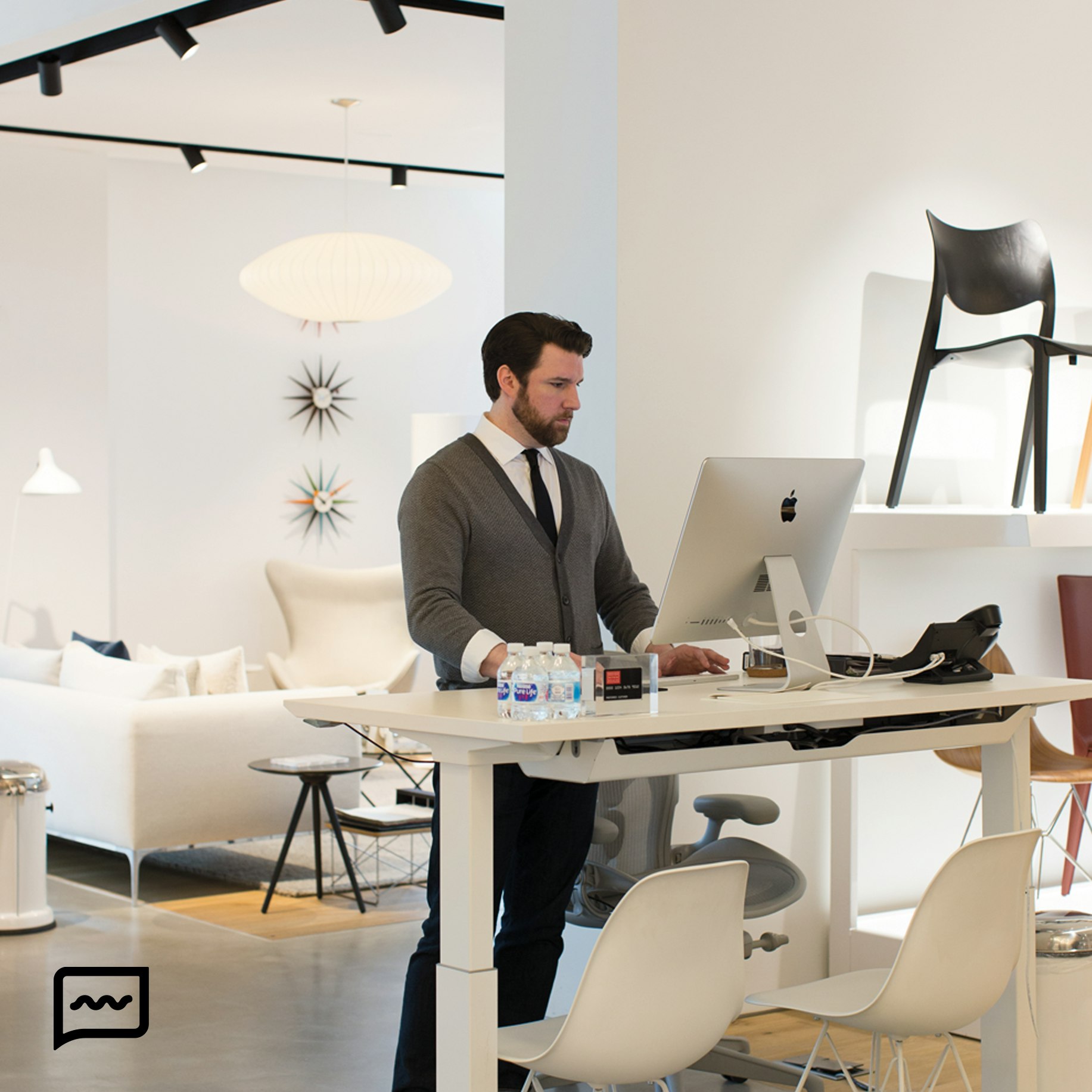 Any Questions So Far? We Can Help.
Chat instantly with a Performance Specialist to get advice, recommendations and answers to all your questions.