Home Office Desks
Every home office setup needs a reliable office desk designed for your needs. But the best home office desk for one person may not be the best office desk for you. When choosing your work desk, you must consider factors like the size of your office, the amount of surface space you need, your office's storage needs, and your preferred working position. At Herman Miller, you'll find modern office desk options designed around a diverse range of work styles and office needs, with iconic silhouettes that will elevate the style and sophistication of your space. For an overview of all your desk options, shop all desks from Herman Miller.
Types of Home Office Desks
The best desk for your office setup will depend on your office aesthetic, work style, and storage needs. If office storage is a priority, opt for an office desk with storage components, such as drawers, cabinets, and shelves. If you have limited space, a ladder desk, sometimes called a ladder shelf desk, may be the best choice. Designed to lean against a wall, these tall, narrow desks have ladder-like slats that can double as shelves. Other desks with shelves above them include office desks with hutches, which may have cabinets as well. For a lower profile, consider choosing an office desk with drawers or cabinets built into its base. Such desks, including credenza desks, provide easy access to your work essentials without crowding wall space. Plus, some desk drawers and cabinets even come with locks to protect sensitive documents.
Modern office desks with minimal additional features can be ideal if you prefer a clean, streamlined office setup and don't need much storage space; however, you can also find low-profile modern desks with drawers that won't detract from their elegant simplicity. With their commanding silhouettes, executive office desks are optimal for promoting an air of professional sophistication.
If wellness is a priority, consider a standing desk. Also referred to as sit-stand desks, these broad office tables are height adjustable, meaning they can be converted from sitting height to standing height. Some standing office desks are fully electric, while others are manual. Standing desks are popular for the benefits they may have on your health; rather than sitting, standing while working can improve blood flow, posture, focus, and productivity. At Herman Miller, discover all these desk types and more. Plus, explore
all office chairs
to complete your ideal office setup.
Herman Miller Home Office Desks
Herman Miller's home office desks with storage include the Line Storage Desk, which has drawers and cubbies concealed behind a pair of gorgeous louvered panels, and the Eames Desk Unit, which has a large drawer built into its iconic structure. For vertical storage, look to the sleek, low-profile Folk Ladder Desk, ideal for small spaces. If you'd like an office desk with drawers, consider the Airia Desk and Edel Table, both modern office desks with compact drawers that are perfect for important documents.
Herman Miller's selection of standing office desks is extensive, offering bestselling options including sit-stand desks in the Jarvis Standing Desk, Motia Sit-to-Stand Desk, and Renew Sit-to-Stand Desk collections. These motorized standing desks are ideal if you want a simple work surface that can meet you where you need it to, whether you're sitting or standing. For an overview of all the sit-stand desks available at Herman Miller, explore
all standing desks
.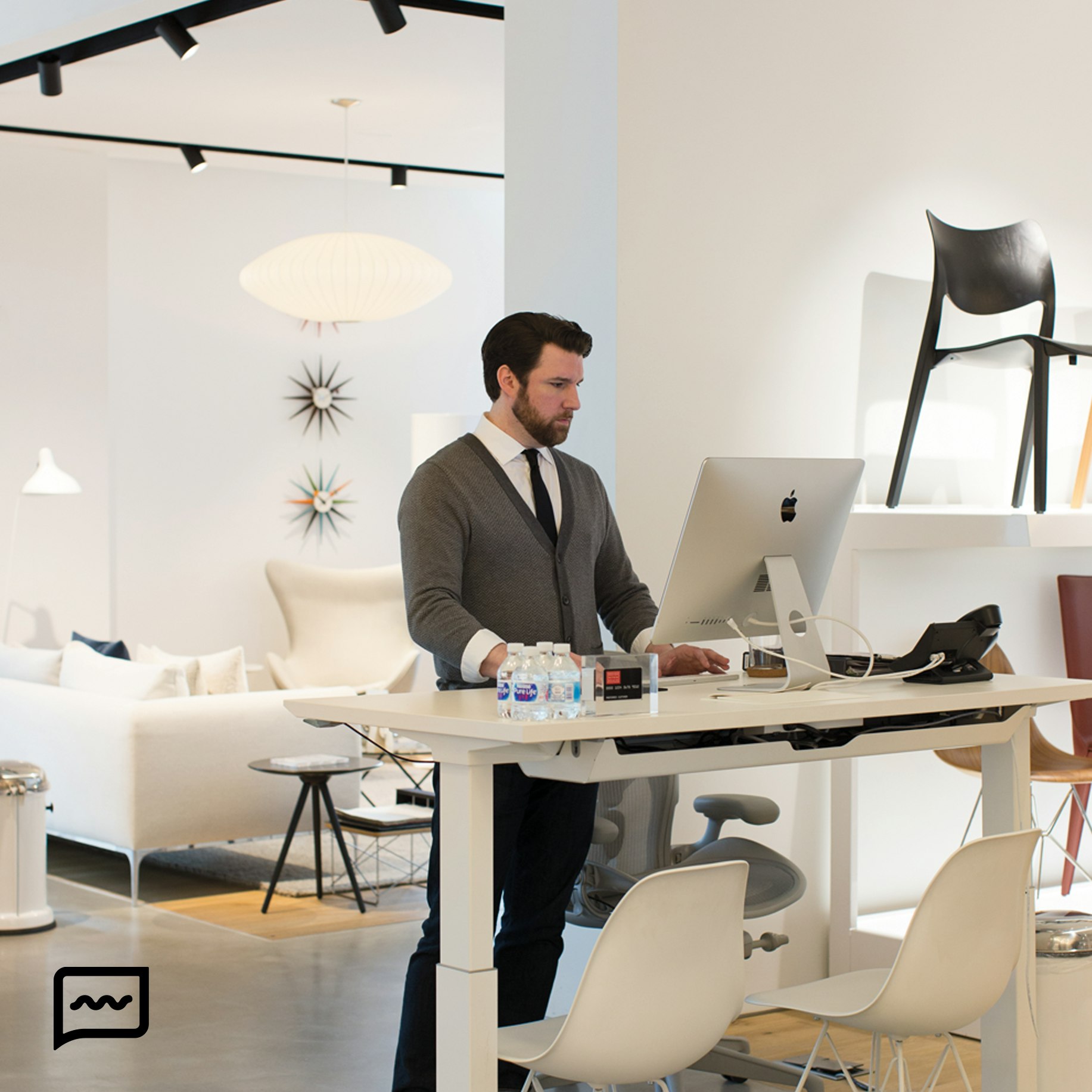 Any Questions So Far? We Can Help.
Chat instantly with a Performance Specialist to get advice, recommendations and answers to all your questions.