Lounge Chairs & Ottomans
Designed for relaxation, a lounge chair is the cornerstone of any living room or gathering space. The best lounge chairs are ergonomic – offering adequate back support – without compromising visual appeal. Upon its debut in 1956, the Eames Lounge Chair revolutionized lounge seating. Charles and Ray Eames' innovative take on a leather club chair quickly became an icon of American style, redefining lounge chair design and the notion of relaxation. Many lounge chairs, including the Eames, feature a complementary ottoman, which can serve as a footstool, seat, or even a convenient surface for reading material. At Herman Miller, discover modern lounge chairs and ottomans for every design scheme.
Types of Lounge Chairs
There are many types of lounge chairs from which to choose, including loungers, chaise lounge chairs, recliners, and lounge armchairs. Modern lounge chairs, also called loungers, are distinguished by a generous seat, high back, and relaxed pitch. This type of seat may feature arms for added elbow support. Similarly, a classic chaise lounge chair may feature two arms, one arm, or no arms. Chaise lounge seats encourage the sitter to recline in a nearly flat position and often feature a gently sloping frame that elevates the sitter's knees and feet.
Recliners are praised for their functional versatility. Designed with an adjustable back, a reclining chair can be adjusted from an upright position to a reclined position. Many recliners also feature articulating footrests to elevate the sitter's feet. Reclined loungers offer exceptional comfort, but they also occupy a large footprint. Before choosing this type of contemporary lounge chair, measure your space to ensure it can accommodate a recliner.
On the other hand, armchairs are more compact lounge seats. These often feature a deep, cushioned seat and low back. Many lounge armchairs are designed with space-efficient, streamlined frames, making them an ideal choice for small spaces. Ultimately, the best lounge chair for your space will be one that fits neatly and coincides with your interior design aesthetic. For more living room seating options, shop side chairs at Herman Miller.
Ottoman Designs
Some lounge chairs are accompanied by a matching ottoman. These are versatile pieces of furniture that can pull double duty as a footstool or extra seat – and some are designed with casters for easy mobility. Ottomans usually range from 15 to 22 inches in height and often feature a compact footprint. Common ottoman shapes include round ottomans, rectangular ottomans, and square ottomans. While many ottomans are upholstered to match a lounge chair, other stand-alone designs are covered in fabric or leather and can be positioned in the center of a seating arrangement.
Herman Miller Lounge Chairs & Ottomans
Synonymous with unparalleled comfort, the Eames Lounge Chair and Ottoman is an icon of modern design. This masterpiece combines ergonomic design principles with expert craftsmanship, resulting in a seat that stands the test of time. In more than 50 shades of leather and fabric and seven wood shells, the Eames Lounge Chair features a relaxed pitch that responds to the sitter's body. Shop the Eames Lounge Chair and Ottoman at Herman Miller today. To learn more about the iconic ELO, read our Guide to the Eames Lounge Chair.
Or shop other Eames lounge chair designs, including the Eames Soft Pad Lounge Chair, the Eames Aluminum Group Lounge Chair, the Eames Chaise, and Eames series molded plastic, fiberglass, and plywood armchairs. If you're looking for sculptural statement seats, shop the Magis Spun Chair, the Nelson Coconut Chair, and the Striad Lounge Chair.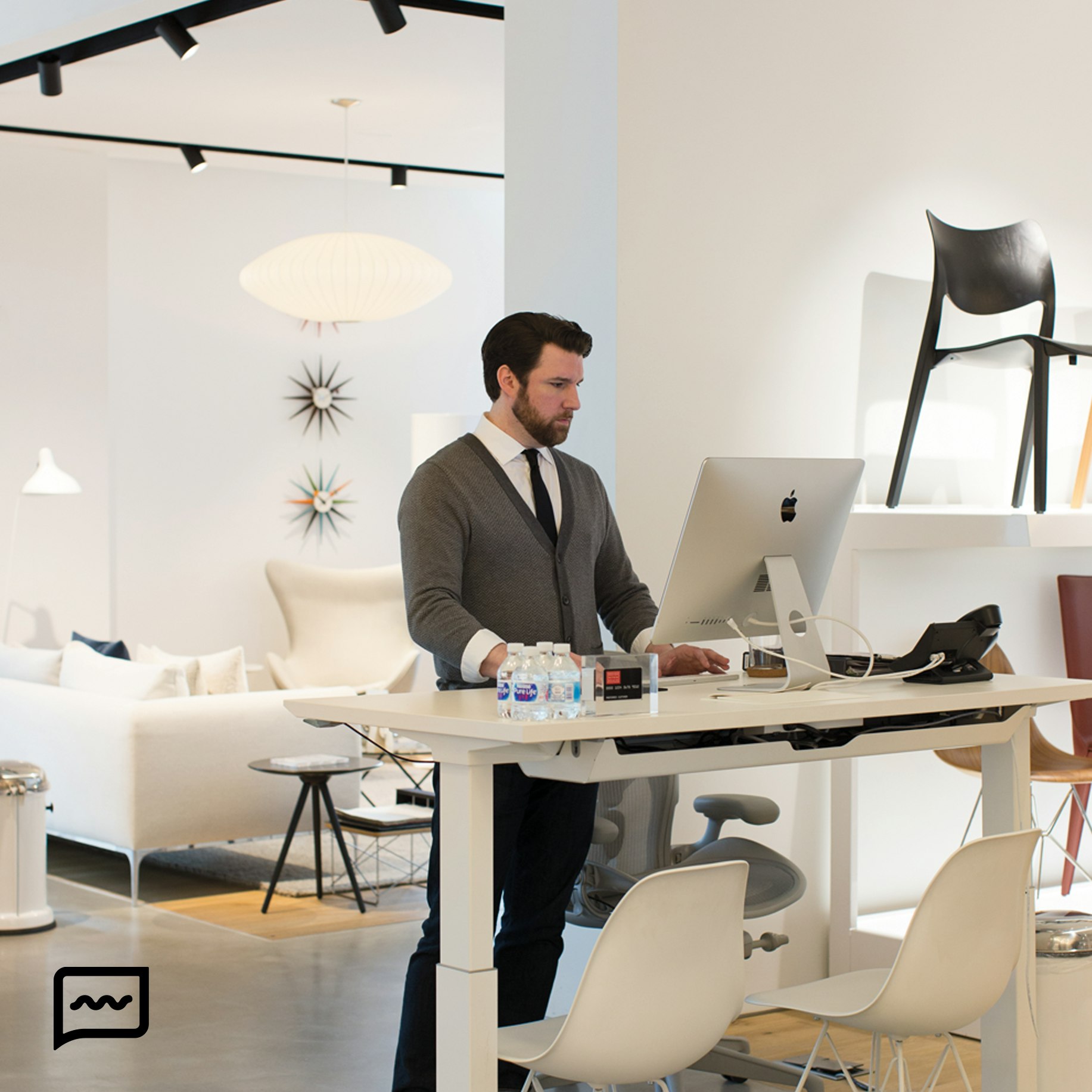 Any Questions So Far? We Can Help.
Chat instantly with a Performance Specialist to get advice, recommendations and answers to all your questions.