Performance Seating
Designed to accommodate the needs of a diverse range of bodies, ergonomic chairs from Herman Miller offer inclusive, unparalleled support. For a distinctively comfortable fit that will mitigate chronic back pain and maintain total spinal support as you move, shop the best ergonomic office chairs at Herman Miller.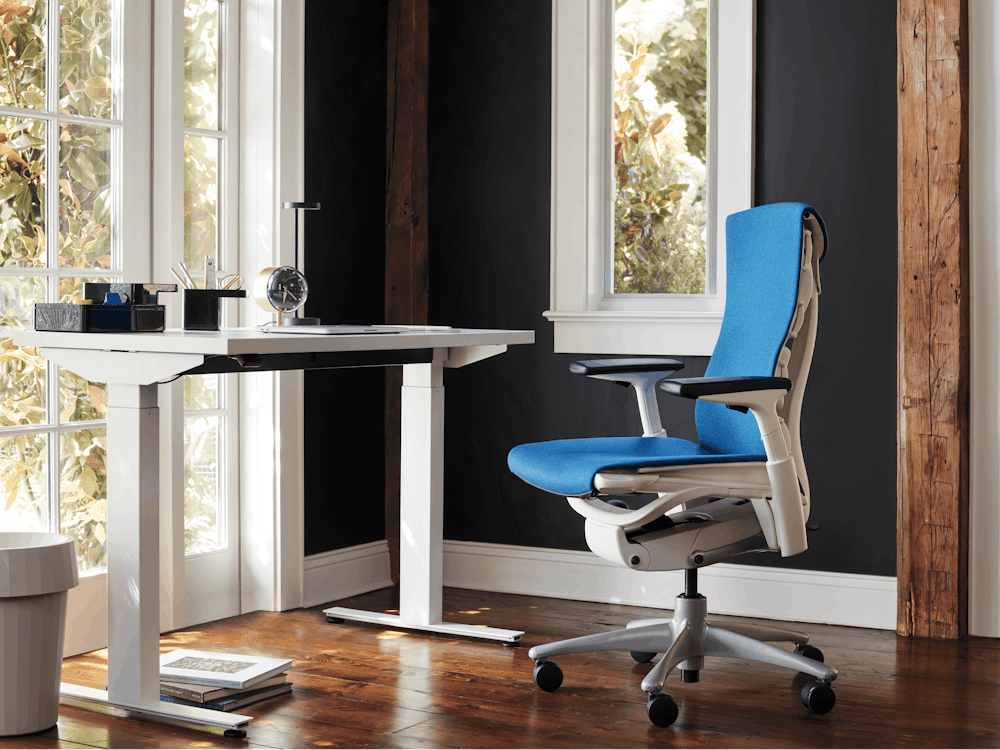 Ergonomic Office Chairs
Central to in-office setups and work-from-home offices alike, an office chair can be a source of either aches and pains or enduring comfort that powers your best work for long hours. The difference is ergonomic design: human-centered design that aims to maximize your efficiency without sacrificing comfort. An ergonomic office chair is an investment in your mind, body, and work, designed to prevent and alleviate back, neck, shoulder, and wrist pain, improve circulation, reduce stress, and stimulate focus and productivity. And ergonomic chairs aren't one-size-fits-all: Visit a Herman Miller Store to hand-pick the size and adjustability features of an ergonomic desk chair that will cater to your body's unique needs and enable you to do your best work, pain-free.
Best Ergonomic Office Chair Features
The best ergonomic office chairs are also the most comfortable office chairs, with features that cater to your body's specific needs. Many of the best ergonomic chairs are designed with lumbar support in mind. Office chairs from Herman Miller are designed with curved lower seat backs or inserts that contour to the inward curve of the spine to promote good posture and provide lumbar support. Those with chronic pain can also benefit from reclining office chairs that take pressure off the spine and joints. To relieve neck pain, choose an office chair with a headrest. Ergonomic mesh office chairs add breathability and temperature control to the ergonomic office chair model. Arm rests are another key feature that supports your hands, wrists, forearms, elbows, and shoulders to minimize and prevent pain from poor posture and muscle fatigue; office chairs with adjustable arms are the best ergonomic chairs for customized support of this kind. To receive personalized support and maximize the benefits you receive from your ergonomic office chair, choose an adjustable chair from Herman Miller that can be adjusted from head to casters.
Herman Miller Ergonomic Chairs
At Herman Miller, you'll find pioneering design in some of the best ergonomic chairs available. No ergonomic chair exemplifies human-centered ergonomic design better than the iconic Herman Miller Aeron Chair, available in three sizes with a wide range of adjustability features including adjustable lumbar support, adjustable tilt, and adjustable arms. Informed by posture professionals, the Herman Miller Embody Chair is one of the best office chairs for back pain. Discover the benefits of the Aeron, Embody, and more, including Sayl, Mirra 2, and Setu, by shopping for ergonomic office chairs at Herman Miller. To compare ergonomic office chairs with other office and gaming chairs from Herman Miller, explore our entire range of office chairs.