Standing Desks
Though sitting all day at an office desk may be the norm, it can have significant health impacts. Sitting for long hours is linked to myriad health problems, including high blood pressure, high blood sugar, poor focus and productivity, poor mental health, chronic back pain, diabetes, heart disease, and even decreased lifespan. To give yourself more freedom of movement and promote better lifelong health, opt for a standing desk instead of a typical office desk or office table.
Benefits of Standing Desks
A standing desk is a type of height-adjustable office desk designed so that one may use it while sitting or standing. These adjustable office desks, also called height-adjustable desks, sit-stand desks, and stand-up desks, offer their users a healthier way to work. Standing while you work can help you burn calories, lower your blood sugar, reduce back pain, increase focus, boost your mood, and improve your productivity. A standing office desk lets you choose your preferable work position whenever you please, while also allowing you to work from a nonstandard office chair, such as a tall office stool. Shop
all office chairs and stools
at Herman Miller to see what options are available.
Choosing the Best Standing Desk
At Herman Miller, you have several standing desk options to choose from, but finding the best standing desk for your office purposes depends on your priorities. First, decide between a manual or an electric standing desk. Manual sit-stand desks must be adjusted using a hand crank, requiring a bit more exertion from their users than their electric counterparts. Electric sit-stand desks, also called motorized standing desks, are fully electric – to operate one, simply flip a switch or press a button, while the motor does the rest.
The next consideration is size – sit-stand desks are available in varying widths to fit different spaces. With widths close to three feet, small standing desks are the best standing desks for small home offices or office spaces where desk work isn't a primary focus. Medium sit-stand desks are closer to five feet wide, while large standing desks are around six feet wide. Large standing desks may also be referred to as stand-up tables due to their broad surfaces.
Herman Miller Standing Desks
Bestselling standing desk are available at Herman Miller, including the sought-after Jarvis Standing Desk. The Jarvis Bamboo Standing Desk has a bamboo tabletop with a smooth surface finish. Its user-friendly design is equipped with an OLED programmable handset that can store four position presets as well as a powered grommet with a three-prong outlet and a USB port.
Available with one-touch motorized levers, standing office desks in the Renew collection are some of the most elegantly simple options. Renew sit-to-stand desks come in several sizes, including a gorgeous, bevel-edged executive standing desk that's sure to make a statement.
For small spaces, consider the Mini Motia Sit-to-Stand desk, which, in addition to being only 36-inches wide, is available in seven striking base colorways to set your space apart.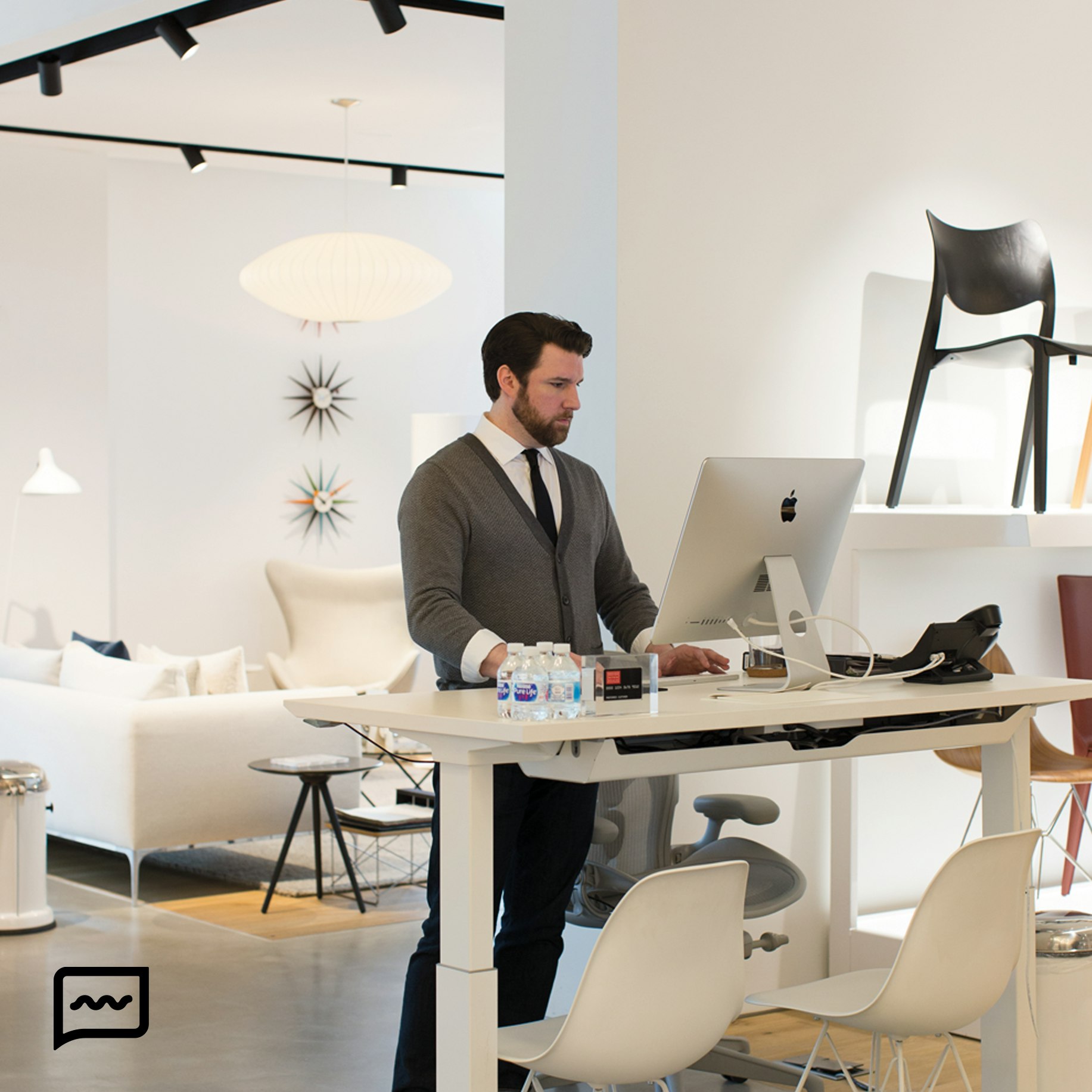 Any Questions So Far? We Can Help.
Chat instantly with a Performance Specialist to get advice, recommendations and answers to all your questions.