From the ingenious StorageWall, to the cheerful face of the Ball Clock and his luminous Bubble Lights, George Nelson's modern designs for Herman Miller helped establish the optimistic look and feel of postwar American life.
With color, verve, and ingenious use of postwar materials, George Nelson helped forge the aesthetics of American design in the atomic age. Born in Connecticut in 1908, Nelson studied architecture and fine arts at Yale. In 1932, he won the Rome Prize, traveled to Europe and interviewed the likes of Ludwig Mies van der Rohe and Le Corbusier. He wrote about design for Architectural Forum, and in 1945 co-authored Tomorrow's House with Henry Wright, introducing the concept of the "family room." In the 1940s, Nelson turned his attention to design practice, first conceiving a downtown pedestrian mall, and then designing the Storagewall, a revolutionary system that graced the cover of Life magazine in 1945. He earned the notice of Herman Miller's president D.J. De Pree with Tomorrow's House, and was made Director of Design for the company in 1947. Nelson was tasked with product design and with refreshing Herman Miller's graphic identity. He also brought the Eameses, Alexander Girard, and Isamu Noguchi into the fold. His firm George Nelson & Associates was responsible for the Marshmallow Sofa, the Coconut Lounge Chair, and the Action Office II, which we now know as the "office cubicle." Nelson's Bubble Lamps premiered in 1952. Inspired by silk lamps he'd seen in Sweden, he discovered that he could coat lamps using a new method, with ingenuity typical of a George Nelson design: a resin spray developed by the U.S. military which produced a translucent, durable finish. Apart from a Nelson Lamp, the Ball Clock—with its painted spheres radiating outward in a colorful burst—might be the object that best captures his design philosophy. At the height of the atomic age, George Nelson furniture and lighting positioned Americans to face a new era with optimism rather than fear. "Design," he said, "is a response to social change."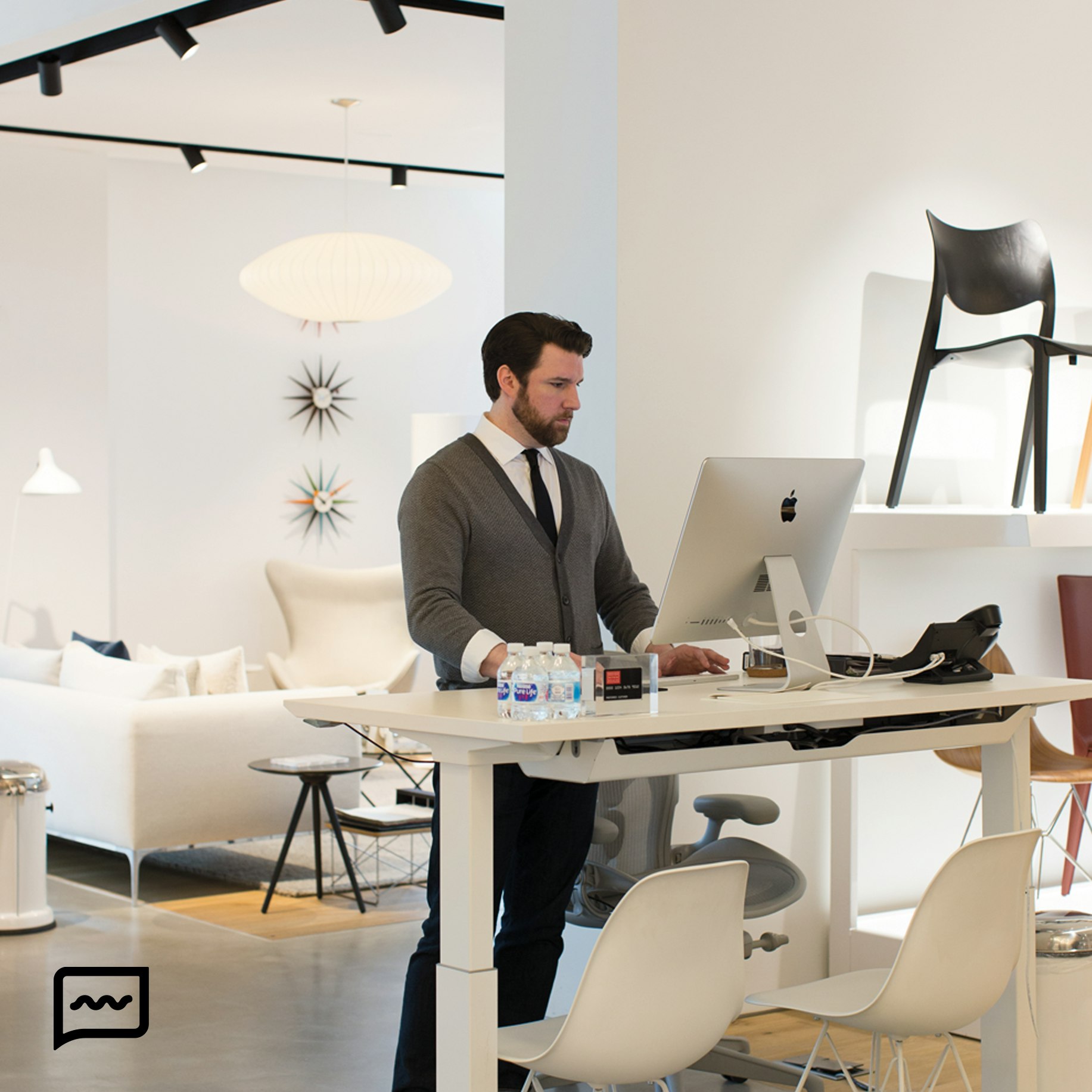 Any Questions So Far? We Can Help.
Chat instantly with a Performance Specialist to get advice, recommendations and answers to all your questions.