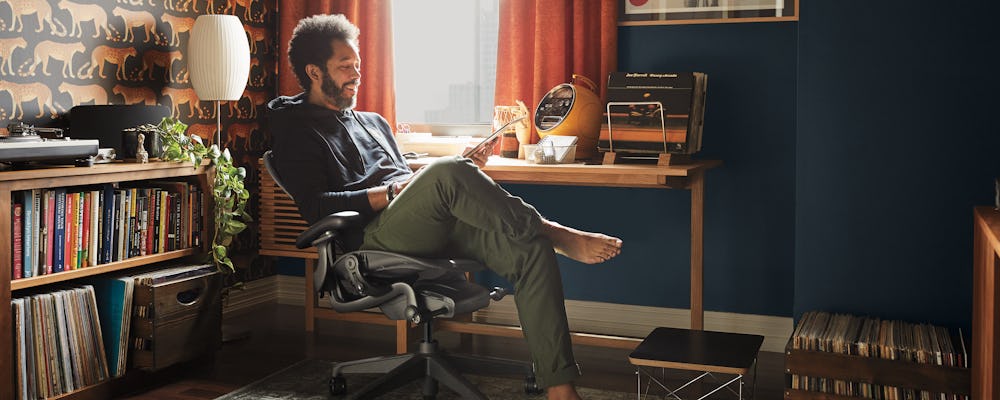 Comedian, actor, writer, and producer Wyatt Cenac is a man of many talents. He's also the host of the weekly Happy Hour Record Club on Instagram Live, which he started as a way to encourage conversation about current events and the pandemic. He's currently working from his Brooklyn home, which is artfully curated with covetable furnishings–some vintage, others new, and some made by Wyatt himself.
Happy Hour Record Club
"Early in the pandemic, I saw people–especially essential workers–stepping up in ways that I will never be able to fully thank them for. I thought, 'Is there anything that I can offer?' As a comedian, what you theoretically provide is levity, but is this a moment where levity is needed?

The pandemic was coinciding with the deaths of George Floyd, Breonna Taylor, Ahmaud Arbery, Nina Pop and all these people that are sparking up a conversation. I thought that going on Instagram Live and just playing a record could provide a space for people to have a conversation or take a moment to catch their breath. I'll draw a little bit, have a drink. We'll listen to a record. You'll hear me blather on about something silly, but also, I'll talk about things in history or just try to connect. The hour ends and then we get back to whatever it is we need to get back to."
Rediscovering Rugs
"I bought a rug recently and, this sounds like a thing you'd hear in a commercial, but it really does tie the room together! Growing up in Texas, everybody put wall-to-wall carpet everywhere. When I moved to California, I noticed there was less wall to wall and more hardwood floors. But then, I saw a room with an area rug and was like, 'Oh a rug. It's not everywhere. You still get hardwood. It's like putting a goatee on your couch!'"
For the Love of Lounging
"I've always been a fan Charles and Ray Eames. For years, whenever I saw an Eames Lounge Chair, I would find a way to sit in it, whether I was allowed to or not. When I was making my show Problem Areas, we rented one for the set and I spent the entire shoot hanging out in the chair–even on breaks! Someone would say, 'We've got to reset the cameras, you can step off,' and I was like, 'No, I'm good here.'

When the show got picked up for a second season, I decided the perfect reward was to buy my own Eames chair. I really do love it.

It's a safe space for me even when the world outside feels like it's on fire. It's where I can read or draw or listen to a record and feel a little bit of comfort before I have to walk back out into that world."
Any Questions So Far? We Can Help.
Chat instantly with a Performance Specialist to get advice, recommendations and answers to all your questions.