Sofas & Sectional Couches
Central to every lounge-worthy space, sofas and sectionals are spacious, upholstered seats that provide comfort for relaxing or entertaining. Though sofas and sectionals are most often seen as living room furniture pieces, they can also be essential components of other gathering spaces – a sectional sofa can complete a game room, movie room, or basement entertaining space; a sofa can be the perfect anchor for a formal sitting room, family room, or kids' playroom.
The key to choosing the best sofa or sectional couch for your space is balancing form with function – you want to choose a sofa or sectional that will reflect the style of your space while providing seating for everyone in your household (and perhaps a few guests). At Herman Miller, discover sofas, settees, and sectional couches that combine comfort with designer silhouettes.
Sectional & Sofa Types
Two factors should be top of mind as you explore sofa and sectional options: sofa type and sofa size. There are several sofa types to choose from, including sectional sofas, loveseats, settees, sleeper sofas, modular sofas, and more.
A sectional sofa is a large sofa composed of two or more sections. While standard sofas can seat three to five people, the largest sectionals can seat six to ten, ideal for large households. Sectionals can be fixed or modular sofas, meaning their components can be exchanged and configured in a multitude of ways, allowing you to create your ideal sectional sofa design. Fixed sectionals are left- or right-facing. This type includes sectionals with chaises, L-shaped sectionals, and U-shaped sectionals.
Though loveseats and settees share some similarities – they're typically smaller than the standard sofa or couch – they also have distinguishing features. Loveseats can only seat two people, while settees can fit two or more. Settees also tend to be more bench-like and decorative than loveseats, and they're often used as accent pieces
Sleeper sofas, also called convertible sofas, recliner sofas, or sofa beds, are sofas that can be converted into beds. These sofas conceal full- or queen-size mattresses, which can either be pulled out of the sofa base or revealed by reclining the sofa back. Simpler versions of sleeper sofas include futons, which are usually armless and unembellished.
Herman Miller Sofas & Sectionals
The sofas and sectionals available at Herman Miller deliver superior function without compromising on style. Shop large, dependable sofas and sectionals such as the Lispenard Sofa, the Lispenard Sectional, the ColourForm Sectional, and the Bolster Sofa. Comfortable yet clean-lined, these couches make excellent modern sofas for large spaces or big households.
Or spruce up your space with an iconic Herman Miller sofa, such as the Nelson Marshmallow Sofa, a gorgeous armless settee composed of 18 round, removable cushions mounted atop a sleek steel frame. Or opt for the Eames Sofa, a classically elegant piece of furniture history. This two- or three-seat leather sofa pairs oiled wood with polished aluminum for a refined finish that will accent any space.
If you're interested in multiple pieces that can contribute to a unified space, consider the entire ColourForm collection or explore the Tuxedo series. Both collections include matching pieces of varying sizes, such as the ColourForm Tete-a-Tete Sofa and the classic Herman Miller Tuxedo Sofa. Don't forget to pair your perfect sofa or sectional with a Herman Miller
coffee table
or
lounge chair
.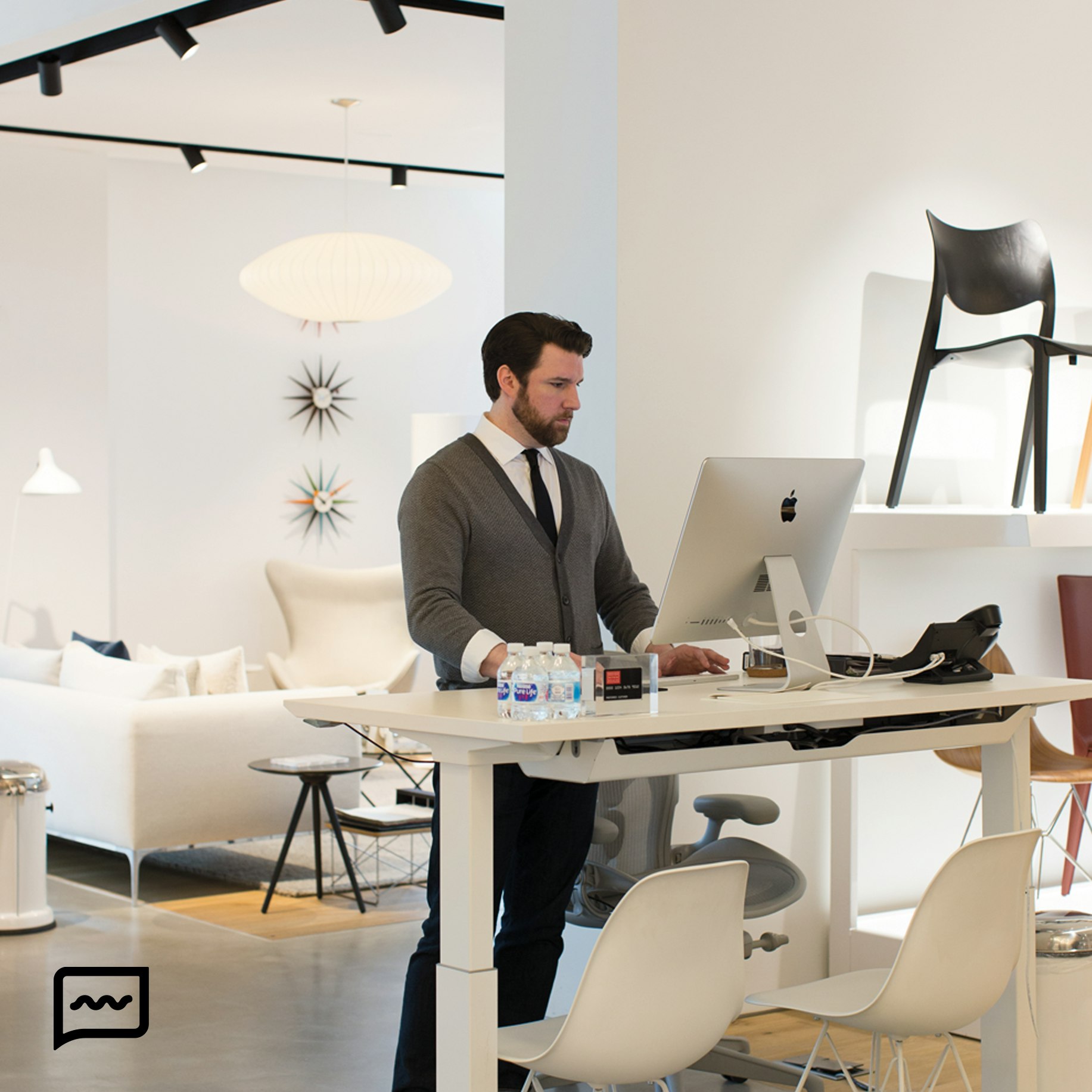 Any Questions So Far? We Can Help.
Chat instantly with a Performance Specialist to get advice, recommendations and answers to all your questions.