Nightstands & Dressers
Often available in sets of two, nightstands, also called bedside tables, flank a bed to provide easy-access storage space for all your bedside needs. Equipped with spacious tops and storage components, such as drawers or shelves, they're essential pieces of bedroom furniture.
Similarly, dressers provide ample storage space for clothing and accessories. While nightstands are often compact in size, dressers feature generous drawers with impressive storage capacity. Dressers range widely in size and style and are suitable for any space. Complete your bedroom with modern nightstands and modern dressers from Herman Miller or shop all storage furniture at Herman Miller.
Nightstand Dimensions
The best nightstand height for your room depends on the height of your bed. The best practice is to choose a piece that's within one to two inches of your mattress height so that you can easily reach the surface of the nightstand without straining. Keep in mind, standard nightstands are typically 28 to 30 inches high.
Small nightstands have low profiles – typically 18 inches wide and 22 inches deep – and tend to lack storage compartments. Small nightstands encompass pedestal side tables and sculptural stools. As you shop bedside tables, think about the proportions of your existing bedroom furniture. A single small nightstand may look out of place in a spacious room or one with large-scale furniture.
Large nightstands, especially nightstands with drawers or other storage compartments, are an ideal companion to queen- or king-size beds. These bedside tables usually measure two feet wide by two feet deep.
Dresser Dimensions
Though dressers can vary widely in overall size, most dressers are approximately 16 to 20 inches deep. Standard dressers are often designed with four to eight drawers. These may be horizontally or vertically oriented, ranging from 26 inches to over 44 inches in height.
Small dressers may have only a single column of four drawers, while large dressers typically have two columns with at least six drawers in total. Sometimes called chests of drawers, tall, narrow dressers are ideal for small spaces that require the storage space of a large dresser without the low profile of horizontal versions. Chests of drawers usually range in height from 30 inches to over four feet.
Herman Miller Nightstands & Dressers
Find mid-century modern nightstands and modern dressers at Herman Miller. For a solid wood dresser, consider the Pillar Dresser, available as a low, wide dresser or a tall dresser. Brass hardware embellishes this modern dresser's otherwise simple silhouette, adding contrast to its natural oak or walnut finish.
For a wood nightstand or dresser with a more striking visual twist, opt for the Morrison Dresser or Morrison Bedside Table. Topped with scalloped Carrara marble, these solid wood dressers feature elegant brass drawer pulls. Available in ebonized oak, the Morrison black nightstand and black dresser add a bold finishing touch to neutral design schemes.
For a pedestal side table that can double as the perfect modern nightstand, go with the Nelson Pedestal Side Table or the Magis Central Table, both slim nightstands available in several sleek finishes. Or, for a more conventional bedside table, opt for the iconic 1x1 Eames Storage Unit or the Nelson Thin Edge Bedside Table with convenient open and closed storage.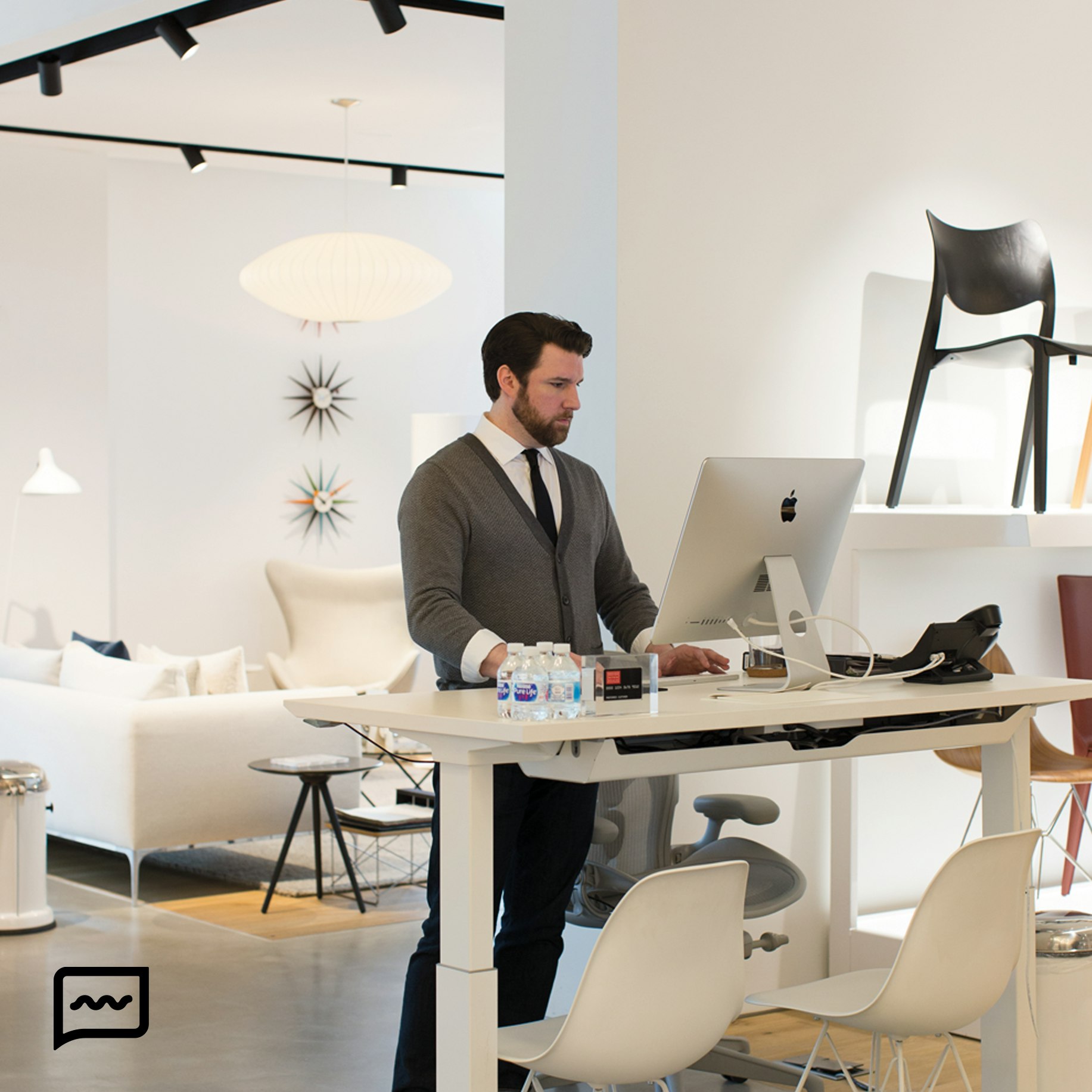 Any Questions So Far? We Can Help.
Chat instantly with a Performance Specialist to get advice, recommendations and answers to all your questions.