Dining Tables
A natural gathering place for friends and family, a dining table is an essential piece of furniture for the home. As such, it's important to choose a dining room table that can not only accommodate your household but also withstand the rigors of daily use. Look for dining table designs that blend durability with aesthetically pleasing design elements. As you shop Herman Miller tables, consider size, shape, and style – your dining table should reflect your taste and unify your space.
Dining Table Dimensions
Dining table size is one of the most important factors to consider as you shop dining tables. To ascertain the best size for your home, follow these simple steps: Measure your dining room, account for the size of your family or number of guests you regularly entertain, and check the dimensions of any existing dining chairs. While standard dining tables are 28 to 30 inches tall, counter-height dining tables usually measure 34 to 36 inches. For dining chairs, the best practice is to account for 12 inches of space between the chair's seat and the underside of the dining table. If you haven't yet chosen dining chairs, shop
dining chairs and stools
at Herman Miller.
The width of your dining chairs can impact the dining table size that's right for you. Many large dining tables can comfortably seat six to eight people with chairs that range from 16 to 22 inches in width. If your chairs are wider than 22 inches, consider a dining table with an extension leaf to seat an ample number of family members or guests. Low-profile or high-capacity dining chairs, such as backless stools or dining benches also pair well with large dining tables. These types of seats are ideal for compact dining rooms since they can slide completely underneath the table, thereby easing traffic flow in the room. Remember, the best practice is to leave 36 inches of clearance around the dining table. Round dining room tables and other small dining tables are ideally suited to small dining rooms that could benefit from the additional space.
Herman Miller Dining Tables
At Herman Miller, you'll find modern dining tables in a variety of shapes and sizes, including round dining tables, square dining tables, and rectangular dining tables. If you're looking for a timeless Herman Miller table, consider the Nelson Swag Leg Table, available as a round dining table or rectangular dining table. The Swag Table's sculptural legs feature an elegant curve that creates ample legroom.
For a modern wooden dining table, consider Ora. Crafted of black walnut or white oak, this stunning solid wood dining table features pillar-like legs. Available in two sizes to seat eight or ten people, this rectangular table with rounded edges suits a variety of spaces. For a more streamlined silhouette, opt for the solid wood Edel Table or choose the clean-lined Doubleframe Table, available with a marble top mounted on an oak or walnut base.
The Magis Tavolo XZ3 Table is an ideal choice for spaces that can benefit from a white dining table. It's available as a round or rectangular dining table. Moreover, the Magis Tavolo XZ3 Rectangular Table and the Magis round table are each available as black dining tables – an easy choice for spaces that call for a dose of high drama.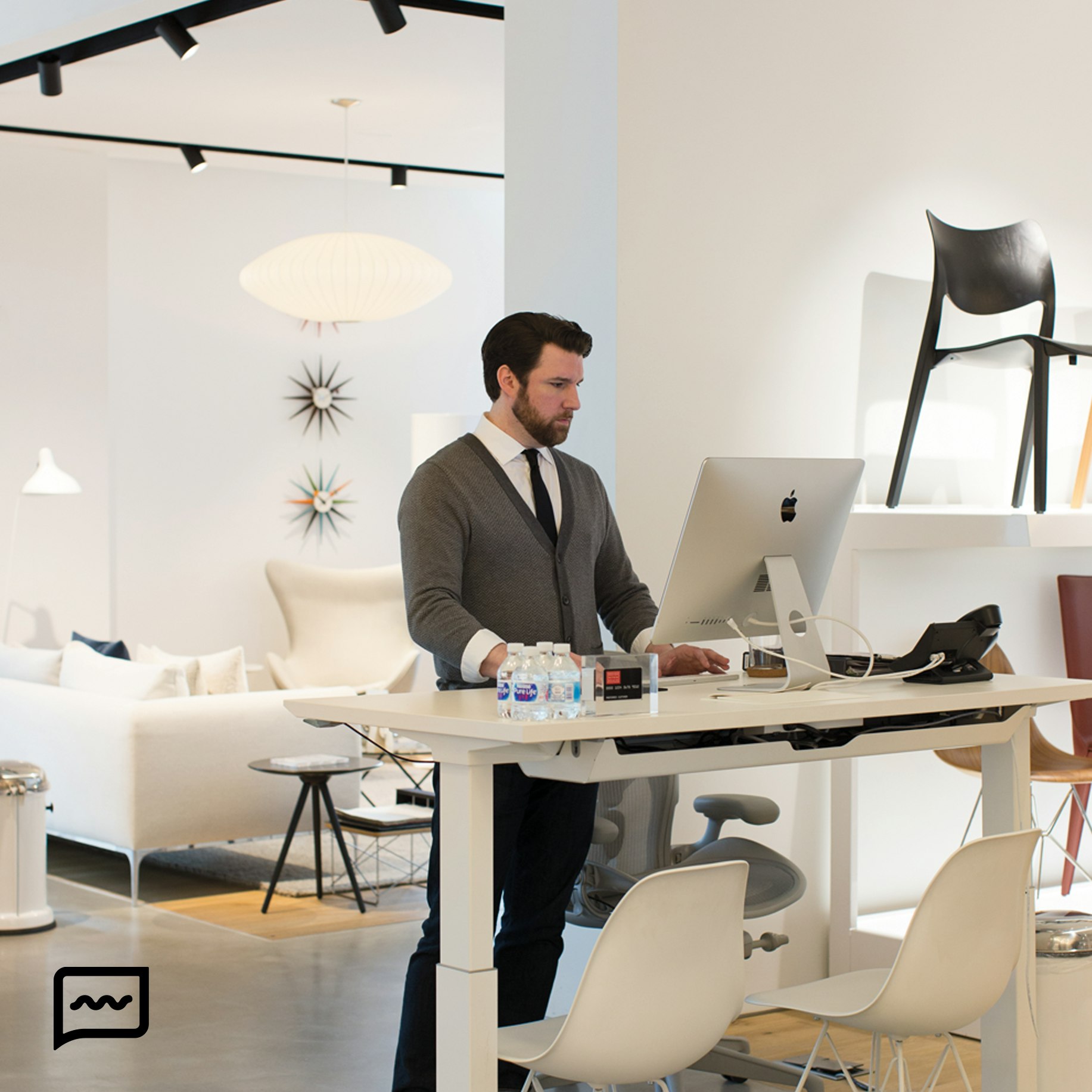 Any Questions So Far? We Can Help.
Chat instantly with a Performance Specialist to get advice, recommendations and answers to all your questions.