Side Chairs & Accent Chairs
All seating serves a purpose – it can be used to gather guests around the dinner table, to provide comfort and support for long hours of seated work, or to create a welcoming environment that fosters conversation. However, certain chairs have more visual impact than others. Accent chairs and side chairs are some of the most versatile and visually intriguing pieces of furniture. These decorative chairs offer functional seating and contribute to your home's design scheme with dramatic silhouettes, brightly colored materials, and textural juxtapositions.
Though accent chairs and side chairs are both single seats that can serve as statement pieces and additional seating, the two have differences. Cushioned, upholstered, and comfortable, accent chairs are well-suited to casual living spaces. Most accent chairs are designed with arms and can be used interchangeably with living room armchairs or lounge chairs. Mid-century modern accent chairs are often crafted of wood or metal with fabric or leather upholstery. For greater insight to the difference between accent chairs and lounge chairs, shop lounge chairs at Herman Miller.
In contrast to accent chairs, side chairs are typically armless and serve as standby seating in dining rooms or sitting rooms. Fully upholstered side chairs are less common than solid wood side chairs or wood side chairs with upholstered seats. Over time, accent chairs and side chairs have come to offer the same end use: They're visually interesting chairs that can provide additional seating when needed.
Herman Miller Side Chairs & Accent Chairs
Side chairs and accent chairs at Herman Miller include unmistakable mid-century modern accent chair and side chair designs by renowned designers, notably Charles and Ray Eames. Herman Miller's extensive assortment of Eames accent chairs and side chairs features the iconic silhouettes of the many Eames molded chairs. This collection comprises the Eames Molded Plastic chairs, including the Eames Molded Plastic Side Chair and Eames Molded Plastic Armchair; the Eames Molded Plywood chairs, including the Eames Molded Plywood Lounge Chairs and Eames Molded Plywood Dining Chairs; and the Eames Molded Fiberglass chairs, including the Eames Upholstered Molded Fiberglass Armchair and Eames Molded Fiberglass Side Chair.
Other accent chair and side chair designs in the Eames collection include the Eames Wire Chair, a wire accent chair with a woven and welded seatback, and the Eames Rocking Shell Chair, a sculptural rocking chair available in a wide variety of upholsteries and shell colors.
If you're looking for a fully upholstered seat, consider the Saiba Side Chair, a graceful seat in a range of neutral upholstery options designed by Naoto Fukasawa. For a statement-making modern accent chair, choose the Magis Chair_One by Konstantin Grcic. Available in a set of two, these geometric seats take design cues from soccer balls. Or go for the Nelson Swag Leg Armchair, a modern accent chair that's equal parts elegant and ergonomic.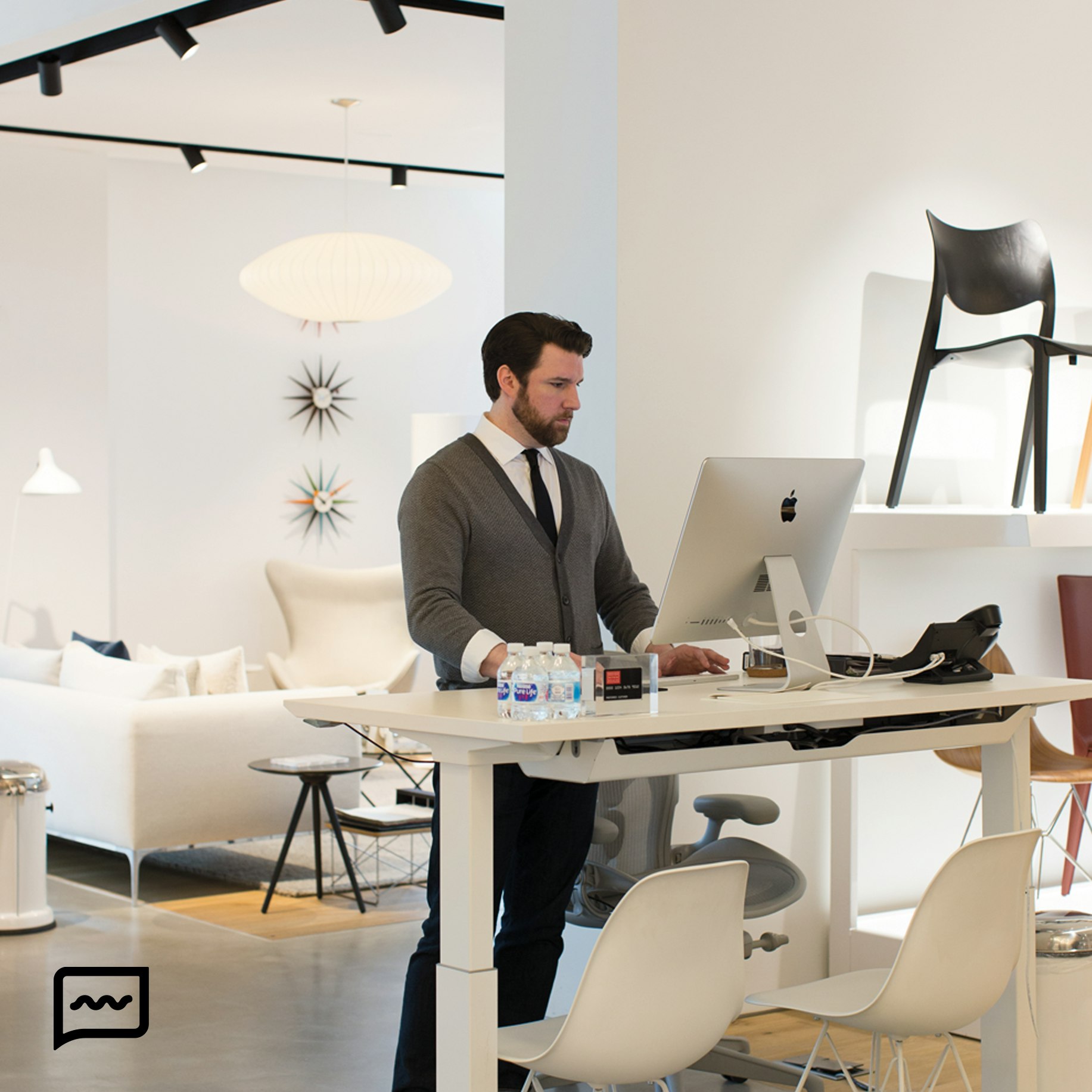 Any Questions So Far? We Can Help.
Chat instantly with a Performance Specialist to get advice, recommendations and answers to all your questions.