Modern Floor Lamps
A prominent feature of living rooms, bedrooms, and offices alike, floor lamps are essential light fixtures that can produce ambient lighting or task lighting. These tall, freestanding lamps don't require hardwiring, and they can be placed anywhere with a suitable electrical outlet. It's no surprise that floor lamps are some of the most popular light fixtures for large spaces.
Floor lamps are choice alternatives to overhead lighting, as their ambient light is often softer than that of ceiling lights. The key feature that enables a floor lamp to produce warm, gentle light is its lampshade. Often made of fabric, paper, or frosted glass, modern floor lamp shades diffuse and soften the light emitted by the lamp.
Floor lamp shades crafted of reflective or opaque materials, such as metal, offer directional lighting ideal for reading, working, or playing tabletop games. Floor lamps are a smart choice for illuminating task-oriented nooks. At Herman Miller, discover a curated collection of modern floor lamps for every room. For more options, shop all lighting at Herman Miller.
Herman Miller Floor Lamps
Not only can modern floor lamps produce the ambient or task lighting necessary to illuminate a space or workstation, but they can also make a decorative statement. Featuring sleek lines, sculptural shades, and dramatic proportions, floor lamps can be just as stunning as the light they emit. Shop floor lamps at Herman Miller for an array of modern floor lamps that toe the line between beauty and utility.
For a sculptural light fixture, consider a tall lamp, such as an arc floor lamp with a long, curved arm and overhead light source. Or consider a pedestal or tripod floor lamp with a refined, clean-lined base. At Herman Miller, discover the George Nelson Lotus Lamps, a sophisticated take on paper floor lamps with lantern-like shades. The Nelson Cigar Lotus Floor Lamp and the Nelson Pear Lotus Floor Lamp are each available with a walnut or metal base.
For an LED floor lamp with a minimal profile, choose the Ode Freestanding Lamp. Available in a black floor lamp model and a white floor lamp version, this streamlined modern floor lamp features a mushroom-shaped spun steel shade that creates a welcoming pool of light. The Ode full-height freestanding lamp is ideal for spacious, open-concept rooms, while the sofa-height version makes the perfect living room floor lamp. It's a smart companion to a reading chair or intimate seating arrangement.
The IC Floor Lamp, a minimal globe floor lamp with an industrial-inspired aesthetic, is another timeless yet modern floor lamp available at Herman Miller. This floor lamp comprises a metal base and a spherical frosted glass diffuser that emits a warm, muted glow.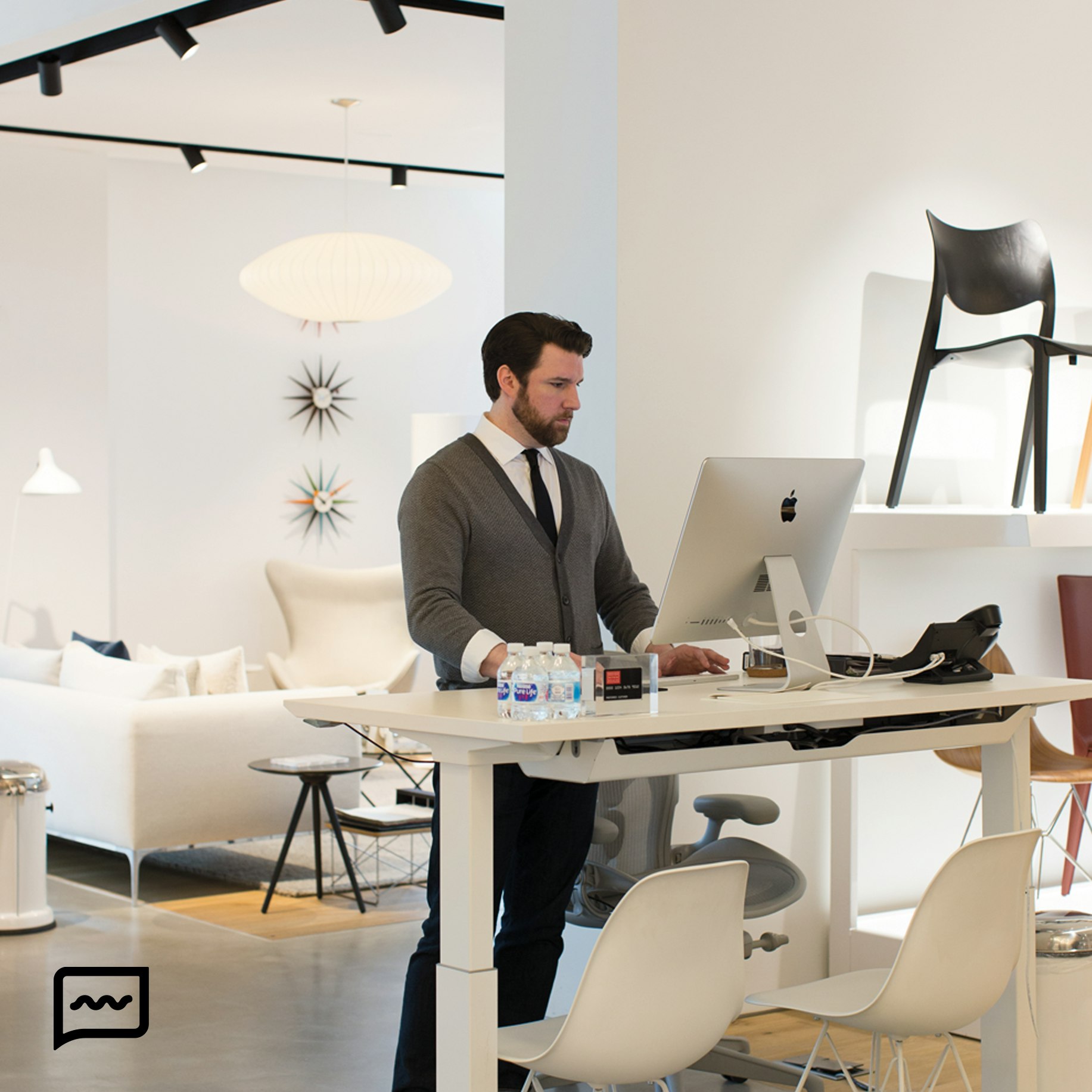 Any Questions So Far? We Can Help.
Chat instantly with a Performance Specialist to get advice, recommendations and answers to all your questions.