Living Room Lighting
From floor lamps and table lamps to ceiling lights and wall lights, many different types of lighting contribute to creating a comfortable living room environment. It's important to choose fixtures that will complement your home's design scheme while offering ample light to create a warm, welcoming space for gathering and entertaining. Depending on the size of your living room, the best practice is to combine two to four light sources. For small spaces, consider a pair of wall sconces in combination with overhead lighting, such as a pendant light, chandelier, or track lighting. For large spaces, install a ceiling light, a pair of sconces, and floor and table lamps.
As you shop living room lighting, consider the function and location of each fixture. Task lighting, including living room floor lamps and desk lamps with opaque shades that cast downward light, is ideal for areas of your living room where specific activities take place, such as a reading corner or a living room workspace. Alternatively, table lamps for living rooms offer ambient light and can be placed on side tables, consoles, and credenzas. For living rooms with high ceilings, opt for track lighting, a pendant light, or a chandelier. These fill empty overhead space and produce ample ambient light. Flank a mantel or sofa with a pair of living room wall sconces, which emit soft, atmospheric light.
Once you've determined the function and location of each fixture, consider form and style. Your living room light fixtures should complement your interior design aesthetic. Classic tiered chandeliers, decorative wall sconces, and traditional living room table lamps with voluminous fabric shades are well-suited to spaces with a traditional design scheme. For modern spaces, look for simple fixtures with clean lines. Modern floor lamps for living rooms are hallmarked by streamlined silhouettes and sculptural diffusers and shades. Minimal arc floor lamps are a smart choice if you're looking for modern living room floor lamps. Organic shapes, minimal ornamentation and globe diffusers characterize modern living room lamps. Shop Herman Miller for the best in modern living room lighting.
Herman Miller Living Room Lighting
At Herman Miller, explore a range of modern living room light fixtures including floor lamps, table lamps, wall sconces, and pendant lights. For modern light fixtures that can work well with any design scheme, consider the table lamps, wall sconces, and pendant lights in the Nelson Lamp Collection. The Nelson Lotus Table Lamps and Nelson Tripod Lamps are notable pieces from Herman Miller's collection of Nelson table lamps. If you're looking for a pendant light, the Nelson Bubble Pendants feature a sculptural shade and produce a warm glow. For living room wall lights, choose the pull-chain Nelson Wall Sconces.
Herman Miller also offers Michael Anastassiades' IC Lamp Collection, which includes a floor lamp, wall sconce, pendant light, and two table lamps. Or discover the Ode Freestanding Floor Lamp, Matin Table Lamp, or Marselis Table Lamp – examples of modern lighting design. Explore Herman Miller's lighting selection.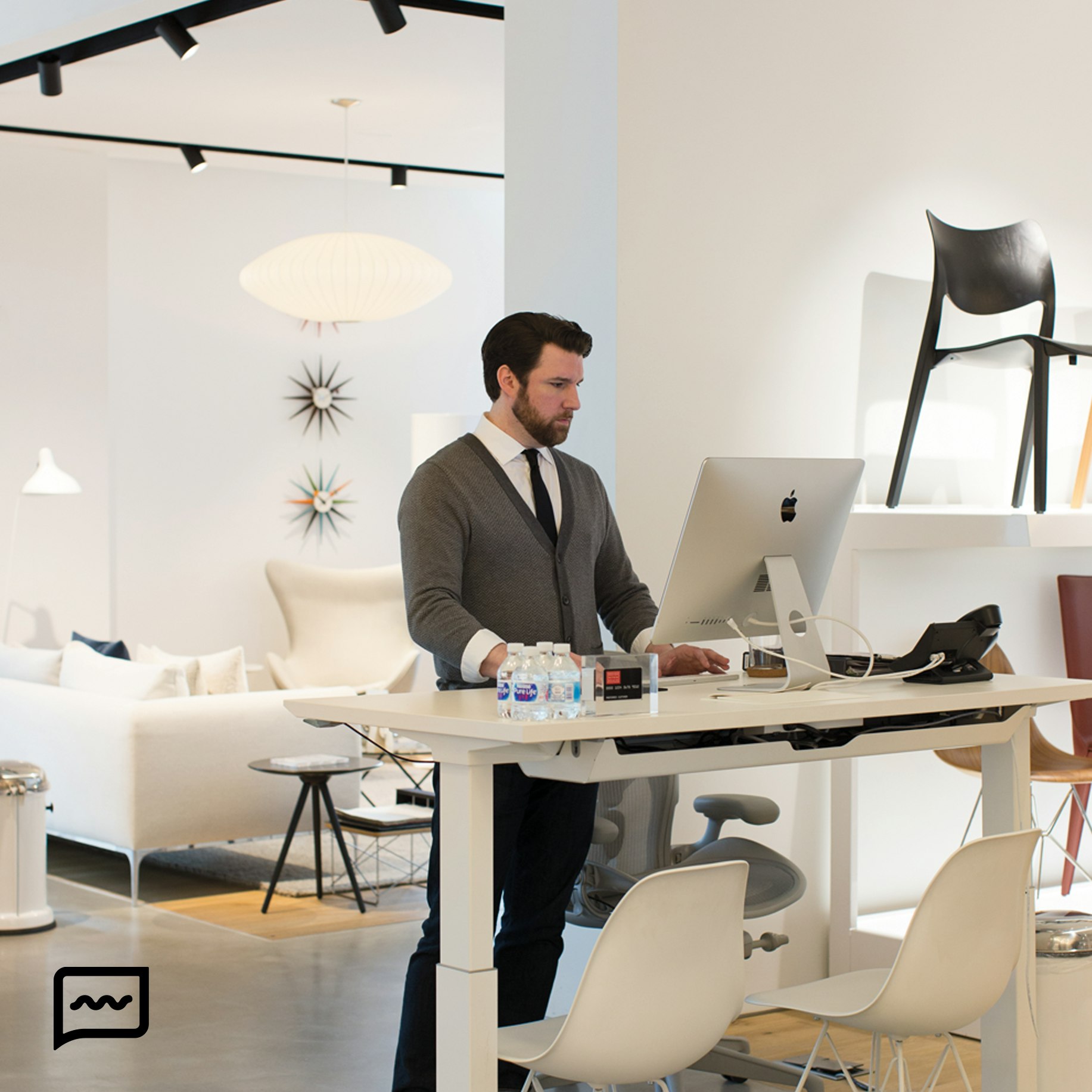 Any Questions So Far? We Can Help.
Chat instantly with a Performance Specialist to get advice, recommendations and answers to all your questions.