IN CONVERSATION WITH HASSAN RAHIM
Each of our gaming chairs come with a special-edition poster designed by an artist we admire. Recently, we sat down with the designer of our Aeron poster, Hassan Rahim, founder of creative studio 12:01, whose past clients include Nike, Sony and Warp Records.

WRITTEN BY: AMANDA KOELLNER
PUBLISHED: 02/25/2021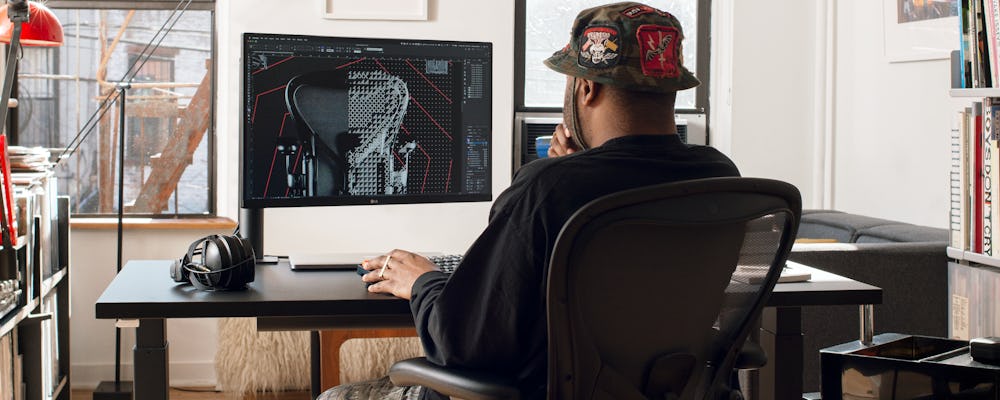 Good design comes about when you riff on things to make them better and more relevant. It's something that inspired us recently to rethink our office chairs for gamers. With that spirit in mind, we thought we'd give the Los Angeles-bred, New York-based Rahim a chance to rethink the Aeron chair through the lens of gaming.

"In my work, I like to chop and screw and collage stuff," he explains, referring to the popular genre of hip-hop. "I relate my process more to J Dilla or Madlib—I chop and sample graphic elements like they make a beat." For this project, Rahim worked Aeron's frank, mechanical details and juxtaposed these technical systems with a lo-fi vibe of vintage gaming. Here he talks about loving the Eames Lounge, finding inspiration in golden-era advertising, and his former status as an untouchable GoldenEye 007 player.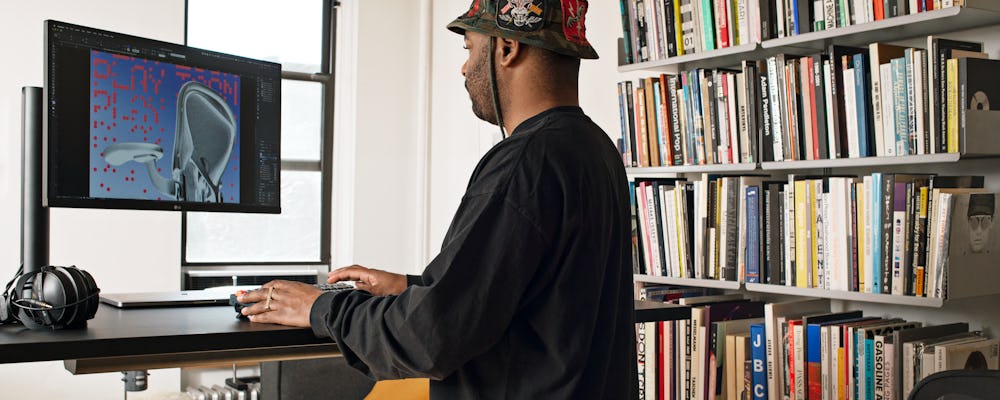 WERE YOU EXCITED TO GET A CALL FROM HERMAN MILLER TO COLLABORATE?
Yeah, totally. I grew up not of very well means, but I was always intrigued by these fancy design objects. One of the first things that caught my eye was the Eames Lounge Chair. That's kind of the quintessential, "I'm a grown up, look at my living room chair." And as I got older and into my design career, the Aeron Chair was also the quintessential office chair. The whole creative department is always sitting in the Aeron. When I was an intern, I was sitting in Ikea, but when everyone would leave for the day, I'd stay late and steal their Aerons.
SMART MAN! WHERE DID YOU LOOK FOR INSPIRATION WHEN YOU SET OUT TO DESIGN THIS POSTER?
I think it was great that you guys had really beautiful photos of the chair from different angles. Given that it's Aeron for gaming, I was able to take those different angles of the chair to highlight different features. It's technical feeling – the poster in general – and it was really fun to dig into all the assets you guys have.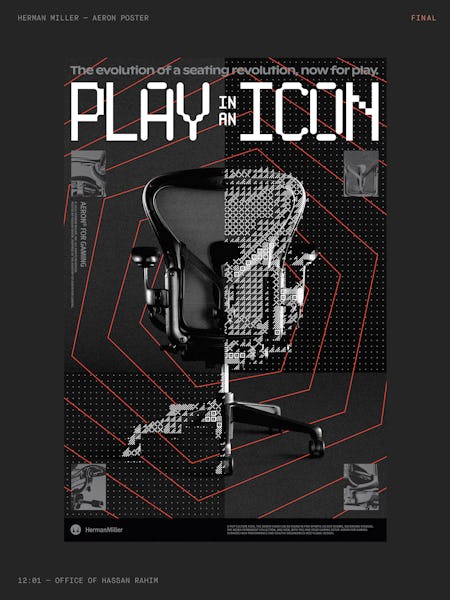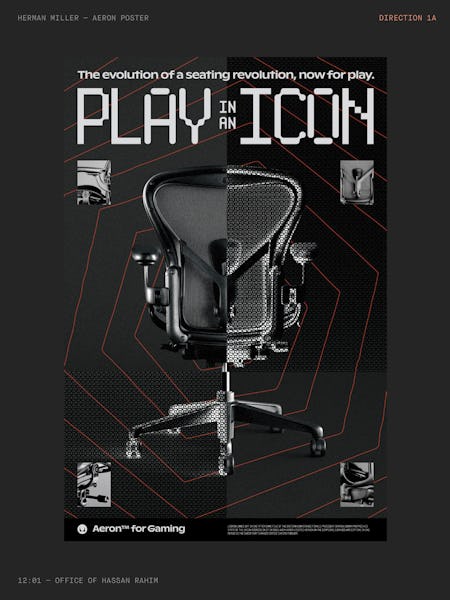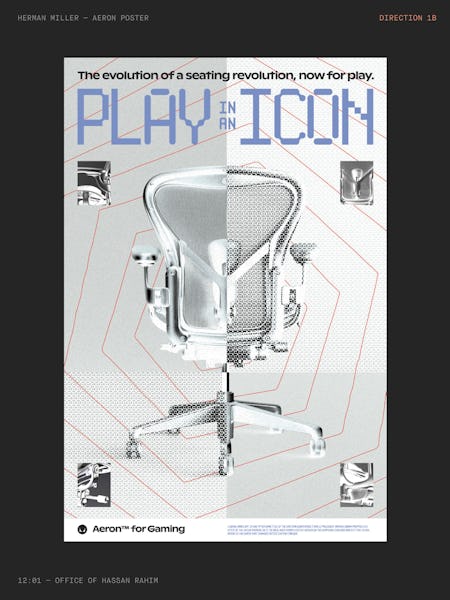 WHAT OTHER OUTSIDE REFERENCES DID YOU PULL FROM?
A lot of my references were from really early computer gaming. Down to sort of the eight-bit pixellation on the chair and the typeface for the headline being sort of half sans-serif, half sort of pixellated computer typeface.
THE ORIGINAL AERON DEBUTED IN 1994. DID A NOD TO THE PAST COME INTO PLAY?
Well, the chair itself is technical and so rad. It wasn't even a look to the past really, because it's such a futuristic chair to me. As someone who just sat in cheap dining chairs as a kid [laughs] (I literally built my whole career at a dining table) … and now I'm like 'Wow, this thing has like 5 pivot functions.' There's a lot to pull from the chair itself and the way you guys have technologically advanced the comfort of sitting somewhere for eight hours a day.
WAS ANY OF THIS A DEPARTURE FOR YOU, OR WAS THE DESIGN VERY MUCH IN LINE WITH YOUR ORIGINAL APPROACH??
No, it's not a departure. I took the challenge of making it more of a promotional poster versus an art poster, which was a choice. I wanted it to feel like it could be an ad in the '80s or '90s on the back of a magazine— very clearly about the chair and the technology. Usually my stuff leans more toward the artistic side if I'm asked to collaborate on a print or poster, but I wanted this to feel kind of like golden-era advertising.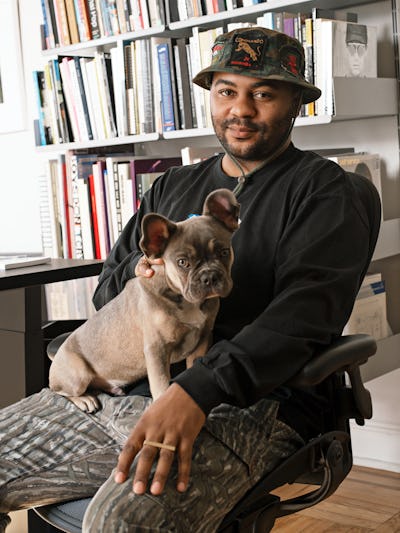 "In my work, I like to chop and screw and collage stuff. I relate my process more to J Dilla or Madlib: I chop and sample graphic elements like they make a beat."

— Hassan Rahim
WHAT ABOUT YOU? ARE YOU A GAMER?
I'm not a gamer, but I grew up with video games. To be honest, I likely sit in a chair more hours than a gamer. Growing up, I always played GoldenEye 007 and Tony Hawk's Pro Skater, that was a really important game to my upbringing. But I was untouchable in GoldenEye.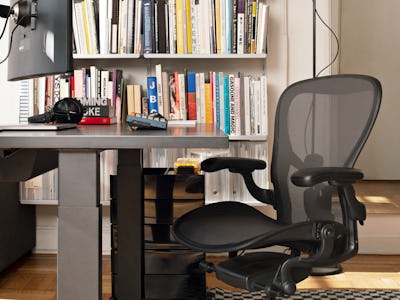 PERFORMANCE DNA
Bring home the Aeron Gaming Chair to experience ergonomic support, ultra-personalised fit and cooling airflow. Plus, receive a free copy of Hassan's poster with your purchase.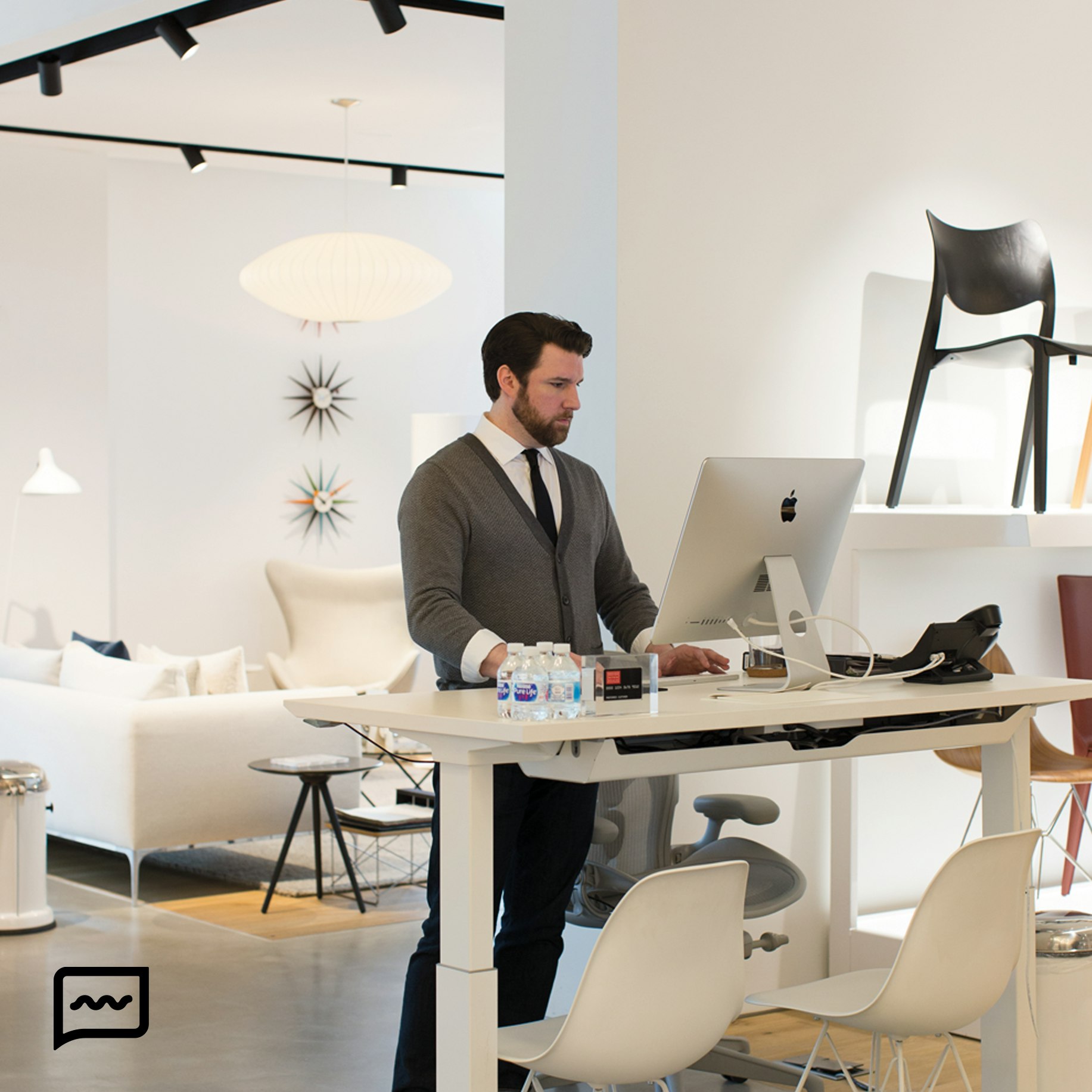 Any Questions So Far? We Can Help.
Chat instantly with a Performance Specialist to get advice, recommendations and answers to all your questions.