HOW TO CREATE THE BEST GAMING SETUP
For casual gamers, professional gamers, and streamers alike, the perfect gaming setup is critical to enhanced performance. Ergonomic designs that help improve your health and well-being can help you unlock the full potential of your competitive play. Whether you have an immersive gaming room or a PC gaming setup in your bedroom or home office, there are a few pieces of gear that are essential in supporting your success:

Gaming Chair: The best chairs are ergonomic and allow you to adjust the headrest, seat, and arms to support areas that can get stressed during long sessions, like your neck, back, and lumbar region.

Gaming Desk: The best desks are those with ample space, both on the desktop and for legroom so you can sit comfortably while you play. These desks should also have a higher weight capacity for all aspects of your setup and available storage to prevent clutter and hide stray wires.

Gaming Accessories: From headsets to monitor arms, the best accessories support your comfort and experience while also optimizing your gameplay.

Keep reading for more details on each part of your design.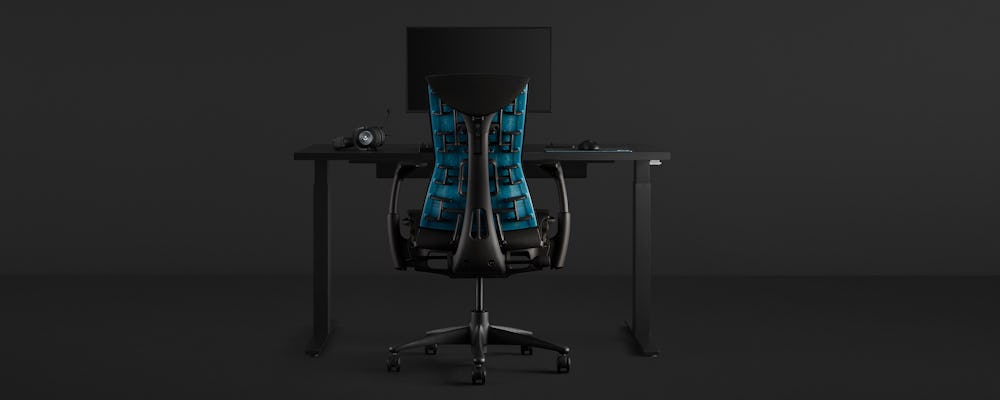 THE RIGHT GAMING CHAIR
Tap into your power posture with the right gaming chair. Investing in a chair with optimal support can help you play healthier, longer, and better. Herman Miller's gaming chairs are science-backed with pro gamer-approved ergonomics. The renowned Embody Gaming Chair, Sayl Gaming Chair, and Aeron Gaming Chair—coveted for their inimitable support—have been re-engineered as computer gaming chairs, enhanced for gamers' needs, and introduced in special colorways for a sleek gaming setup. The new Vantum Gaming Chair—the latest innovation in gaming design from Herman Miller and Logitech G—was created specifically for gamers. Vantum is backed by extensive research, design expertise, and a unique understanding of gaming performance. From lumbar support to pressure distribution that improves balance and blood flow, the benefits of Herman Miller gaming chairs can be felt from the first sit to the last second of a marathon gaming session. The ideal gaming posture is a tight core, feet flat on the floor, shoulders back, and neck in line with the chest—but when the play intensifies, it's difficult to maintain perfect posture. Thankfully, Herman Miller gaming chairs deliver support no matter your sitting position. Designed for long stretches of play, the Embody Gaming Chair was created utilizing research from doctors and PhDs as well as feedback from real gamers. The ergonomic seat promotes better focus, endurance, and agility by conforming to your unique posture, allowing you to play comfortably for longer. The Vantum Gaming Chair delivers full body support, with an adjustable headrest for your head, neck, and shoulders—plus, a thoracic support pad that's ready for you when it's time to press pause. For gamers and streamers who frequently shift or change sitting positions throughout their day, the Aeron Gaming Chair provides total support and instant reaction to your body's quick-twitch movements. With a unique forward tilt, the colorful Sayl Gaming Chair supports you as you lean into the game. Plus, its intelligent suspension back flexes with your micro-movements for agile play.Breathable materials play a critical role in providing long-term comfort, too. When the game heats up, you won't break a sweat:
 
Embody is designed with a layer of copper-infused cooling foam technology.
Vantum's exclusive suspension material delivers breathable comfort over long gaming sessions.
Aeron features a PFAS-free fabric that's flexible yet supportive.
Sayl is equipped with an elastomer back that offers cooling support.
THE RIGHT GAMING DESK
The right gaming desk is also foundational to a well-equipped PC gaming space. Herman Miller's Motia Gaming Sit-to-Stand Desk offers a spacious surface with ample room for multiple monitors, accessories, and storage solutions. Motia's tabletop is anti-glare, matte, and smudge-proof, while the quiet electric motor easily lifts up to 250 pounds of gear. Plus, Motia allows you to sit at your ideal height with plenty of legroom—or you can opt to raise the table and stand while in play.It operates smoothly and efficiently at the touch of a button, so you can easily move from sitting to standing whenever you hit pause. A cable management tray helps keep your desktop clear of wire clutter while the roomy surface comfortably accommodates your gear. Plus, if your PC gaming space doubles as a home office, Motia can pivot from play to work and back again.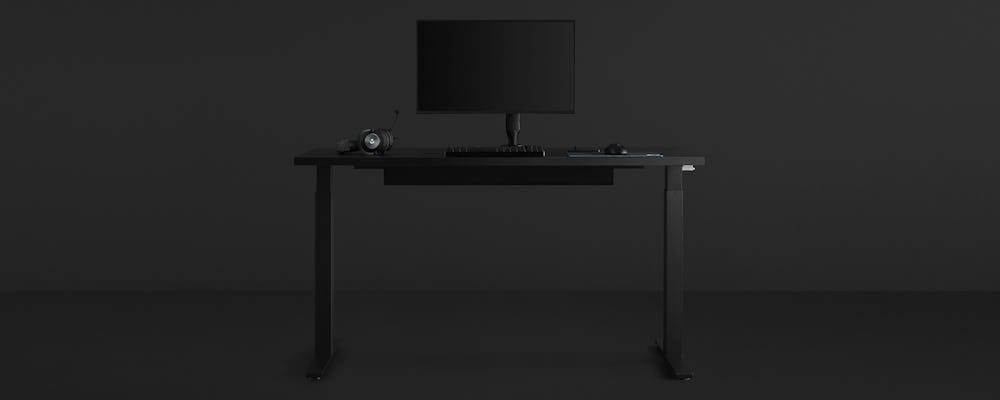 THE RIGHT GAMING ACCESSORIES
Upgrade your tech and enhance your gaming experience with gear that supports successful play, including best-in-class headsets, a responsive gaming mouse, and a keyboard with Lightsync RGB technology.
FINAL TIPS FOR THE PERFECT GAMING SETUP
No matter the size or location of your space, it's easy to create the perfect gaming room setup with the right gear. Follow these tips for creating your gaming space:
If you have a dedicated space for PC gaming or video gaming, go all in with an immersive experience. Choose a color scheme, add accessories that inspire your best play, and customize the lighting with sleek neon fixtures, like the Neon Tube LED, available in three sizes and five colors.
If your home office doubles as a gaming space, opt for a spacious gaming desk and additional storage that can accommodate your work laptop and office supplies alongside your PC gaming gear.
If you play from the comfort of your bedroom, consider a room divider or screen to create a gaming setup that's free from distractions.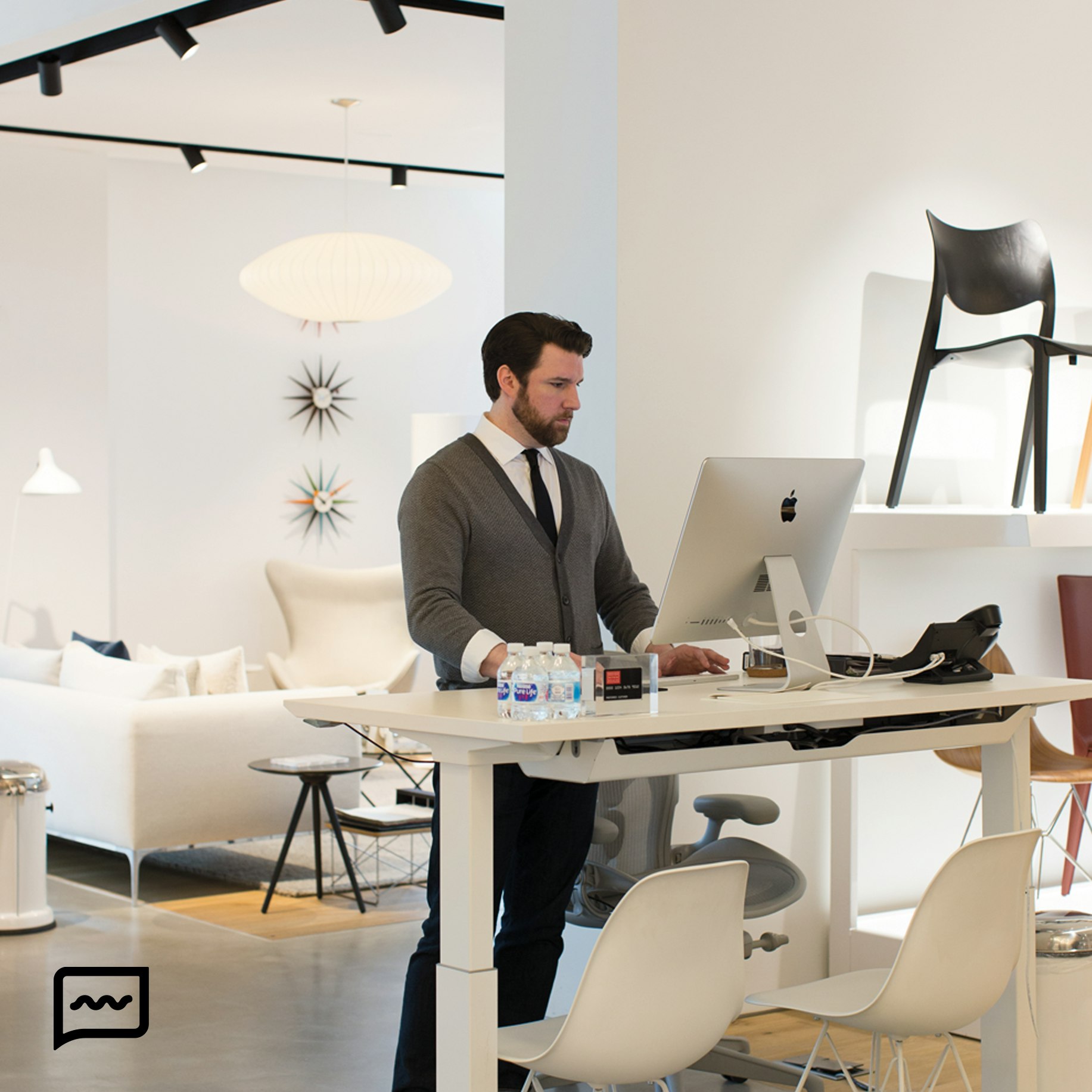 Any Questions So Far? We Can Help.
Chat instantly with a Performance Specialist to get advice, recommendations and answers to all your questions.