6 Things to Consider When Buying a Home Office Desk
A beautiful, modern workspace where you feel productive and inspired starts with the right desk. A home office desk often pulls double duty—as a setup for your 9-to-5 as well as a hub to organize your personal life and check off your to-do list. It's important to choose a desk that you'll enjoy sitting down to each day, one that combines function with beautiful modern design—and the best work from home desks do just that.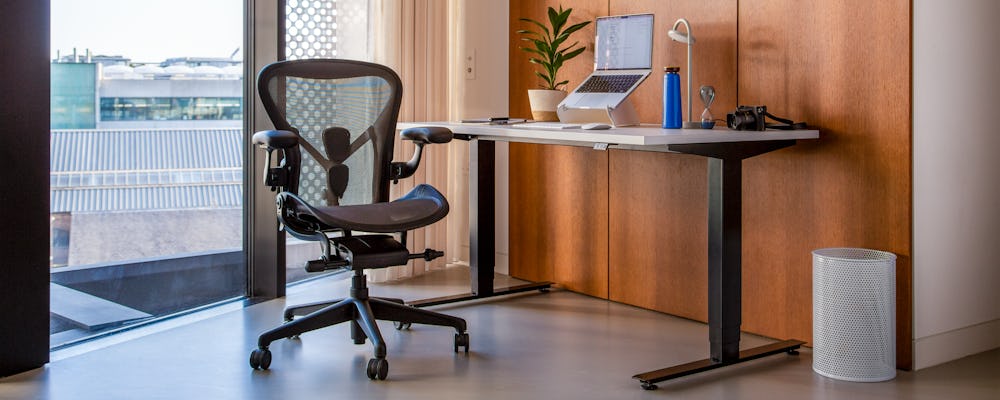 What should I look for in a desk?
If you're asking yourself, "What kind of desk do I need to work from home?" the answer is simple: Think about the type of work you do and the equipment and supplies you use daily. If you have one or more monitors, you'll likely need a desk with ample workspace, such as a computer desk or executive desk. Alternatively, if you work from a laptop, a compact desk can suffice—and works well in small spaces.
Also consider where your home office is located and how it's laid out. Do you have a dedicated office space? Have you siphoned off a corner of your living room for your setup? Does your workstation consist of a converted closet? Ultimately, choose a desk that will best suit the size and style of your workspace.
Types of Desks
Executive Desks
Ideal for a dedicated home office space, executive desks offer a spacious surface with plenty of room for multiple monitors, files, books, and more.
Pro picks:
Storage Desks
This desk type is ideal for those who work with an abundance of office supplies. Keep your workstation clear of clutter with built-in storage compartments.
Pro picks:
Ladder Desks
Tight on space? Choose a wall-mounted desk or ladder desk—a perfect desk for small office spaces or areas that pull double duty. This type of desk can easily be incorporated into a bedroom or used as a living room desk.
Pro pick:
Writing Desks
Traditionally, writing desks once served as a place for penning letters—now, they're equipped for modern work with drawers and multiple storage compartments.
Pro pick:
Height Adjustable Standing Desks
Adjustable standing desks allow you move from sitting to standing—and back again—throughout your workday. This helps increase blood flow to improve your comfort and focus.
Pro picks:
Benefits of Adjustable Standing Desks
If you're wondering, "Is a height adjustable standing desk worth the investment?" The answer is: Absolutely. Changing your posture from sitting to standing can help improve your focus, productivity, and overall well-being. Standing can also help alleviate back and neck pain associated with long periods of sitting.
Sit-to-stand desks are among the best home office desks and can greatly enhance your office ergonomics. There are two different types from which to choose: electric standing desks and manual standing desks. Electric versions can be raised and lowered at the press of a button, while manual ones are usually operated by a crank mechanism.
The ideal adjustment for a sit-to-stand desk will vary from person to person, based on an individual's height. Many of Herman Miller's designs range in height from 27" to 46". As you adjust the height of your desk, make sure you can comfortably reach your keyboard—and keep your elbows at a 90-degree angle as you type.
Desk Materials & Shapes
Choose a desk in a material and shape—such as an L-shaped desk or U-shaped desk—that works well with your office surroundings and existing furniture.
Solid Wood & Wood Veneer add warmth to a room. Both solid wood and veneer are durable and easy to clean. Herman Miller's wood veneer meets strict testing standards for durability and resistance to wear, light, and stains. Still, take precautions and use coasters for glasses and mugs.
To clean: Dust regularly with a slightly damp, soft, lint-free cloth; then wipe dry with a soft cloth in the direction of the wood grain.
Laminate is a durable, hardwearing surface that resists stains and is virtually maintenance-free.
To clean: Wash with a soft cloth and solution of mild detergent and warm water; rinse thoroughly; and dry with a clean, soft cloth.
Leather is soft, supple, and durable. It ages beautifully and develops a patina over time and use. Herman Miller's leather features natural markings that are indicative of unique beauty and character.
To clean: Dust with a clean, dry cloth.
Pro picks:
5 Tips on How to Arrange Your Desk
Measure your space.
Account for three feet in front of the desk for an office chair, as well as two to three feet around the desk for other office furniture.
Remember to account for doors—all entry doors and closet doors should be able to open fully.
Position your desk near an outlet so that it's easy to power your devices.
Finally, arrange your desk near a window for natural light—but avoid glare on your computer screen.
Complete the Room
From mobile storage to desk attachments, complete your setup with versatile office furniture. Whether you have a spacious home office or work from a ladder desk and laptop in your living room, it's important to design a space where you can be efficient and productive.
Shop All Desks