CHAIN REACTION: 4 STEPS TO UNLOCK YOUR ANATOMICAL LOOP™
At Herman Miller Gaming, our gear harnesses your natural ergonomic edge. Discover the step-by-step secrets of the Anatomical Loop™: the total body "power posture" that unlocks healthy and enduring gaming performance.
Resistance to fatigue, a better competitive advantage, pure human horsepower: When your Anatomical Loop™ is activated, your game levels up. Championed by Innovation Expert Dr. Brock Walker, this revolutionary body philosophy drives every design at Herman Miller Gaming, inspiring quick-fire communication between the muscles and connections that fuel your play. Put it this way: The average player makes 53 micro-movements per hour during play, simply to relieve pressure from sitting. Rather than slow your momentum, our chairs, surfaces, and accessories sync with your Anatomical Loop™ to re-focus those motions toward improved reaction and performance from head to toe. "What we're really trying to do and why this will help gamers is we want to design a way to improve human performance by increasing the strength, endurance, and reaction time of the gamer," explains Dr. Brock Walker.
STEP 1: BUILD ENDURANCE
Chest forward, shoulders back, spine arched: Your "power posture" is the dynamic foundation for longer play. Reduce strain on your body's center of gravity with customized ergonomic support. Aeron, Embody, and Sayl are designed with back support technology that maintains a slight forward position through your hips, sustaining support at the base of your spine to encourage its optimal pressure-resistant shape. By adequately supporting the sacrum at the base of your spine, you also help balance the 8–10 pounds of your head, relieving muscle fatigue and helping you focus on better play.
STEP 2: RETAIN STABILITY
Now, stabilize your Anatomical Loop™ from the ground up: Your feet and legs support your body throughout play by maintaining the balance that drives more responsive and reactive performance. Build an ergonomic setup that moves with you. Experiment with any of our height-adjustable seats to keep feet flat on the floor or on your toes in response to your playing habits.
STEP 3: INSPIRE REACTION
With your lower body and midsection supported and braced for movement and reaction, it's time to support your extremities. A height-adjustable gaming desk keeps your hands, arms, and elbows at a comfortable position relative to your peripheral controls and keyboard so you can optimize your reaction time. Using a simple touch switch, the Motia Gaming Desk rises or lowers to keep your Anatomical Loop calibrated at any level.
STEP 4: FIND FOCUS
Keep your head in the game. A proper position between your head, neck, and monitor is the final step to unlocking your Loop, comfortably calibrating your setup to the perfect angle for your "power posture." Rotatable and adjustable, the Ollin Monitor Arm offers the freedom and precision that fuels your focus from the moment you log on.
POSITIONED TO WIN
Endurance, stability, reaction, focus: At Herman Miller Gaming, our gear is driven by the ergonomic benefits you can harness from head to toe.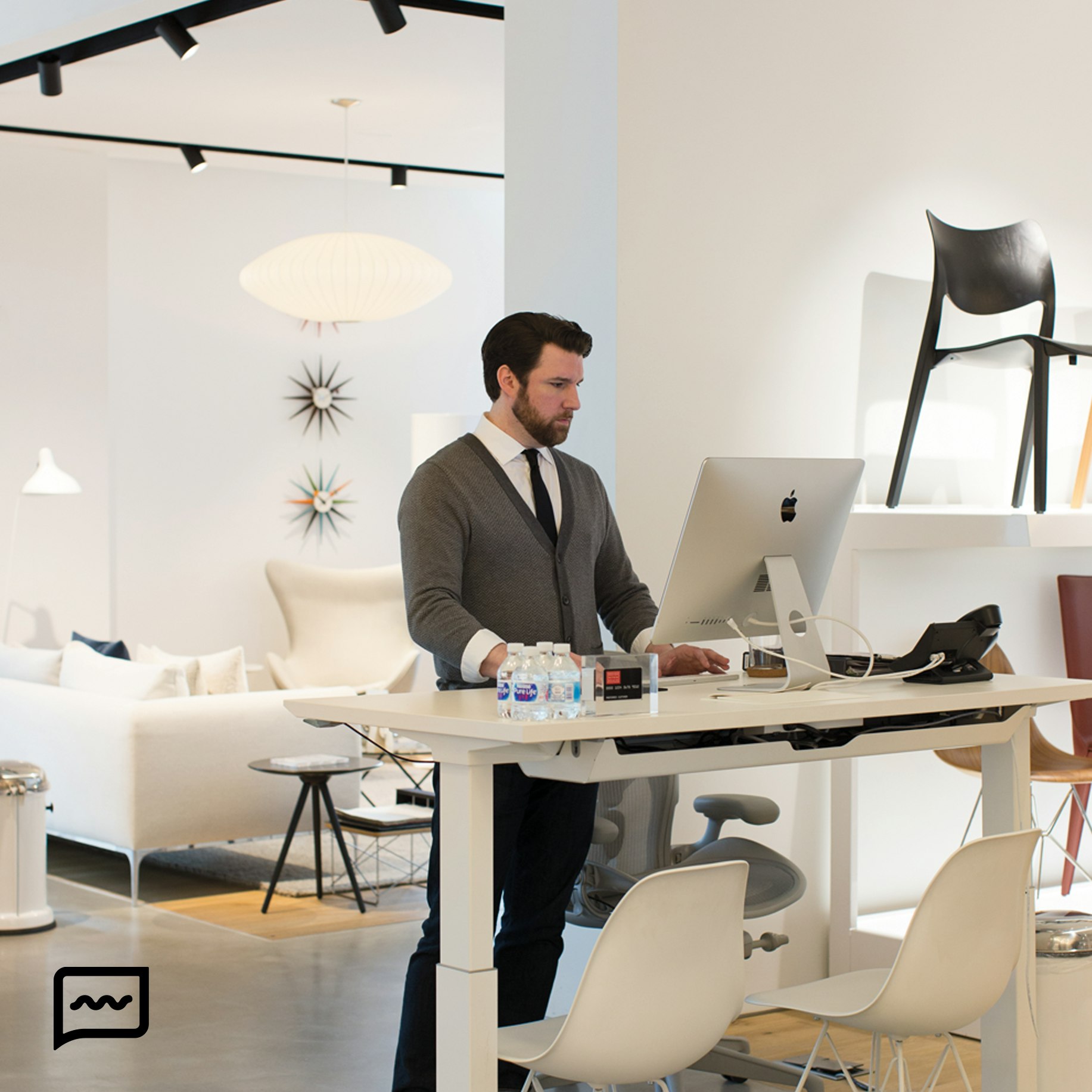 Any Questions So Far? We Can Help.
Chat instantly with a Performance Specialist to get advice, recommendations and answers to all your questions.