Mid-Century Modern Home Office Design Ideas
Timeless, beautiful, and functional, mid-century modern design remains part of the current zeitgeist—for good reason. This clean, uncluttered interior design aesthetic lends itself especially well to the modern home office, promoting focus and productivity with pieces that are equal parts practical and beautiful. Discover the tenets of mid-century modern design and how to achieve the look at home with a roundup of office ideas.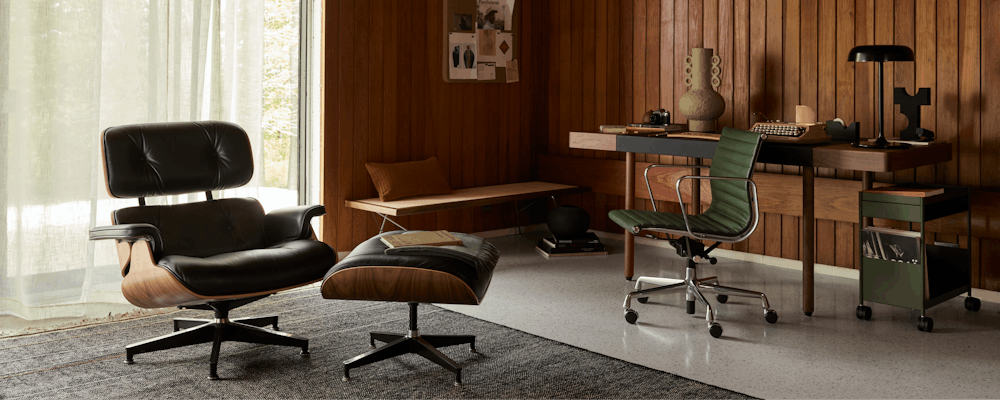 The Details Behind the Design Aesthetic
What inspired mid-century modern?
Popularized in the '50s and '60s, mid-century modern interior design (abbreviated "MCM" in the design community) looked to the future. Designs were crafted from innovative yet affordable materials—such as bent plywood, fiberglass, and steel. Featuring sleek lines and organic shapes, this aesthetic was a refreshing departure from the more ornate, embellished furniture that had been in vogue until that time.
Hallmarks of this design aesthetic include:
Clean lines and organic shapes
Warm, natural materials such as walnut, teak, and leather
Brass accents and hardware
A minimal, neutral palette of earth tones with desaturated hues
Geometric patterns and prints
In the mid-20th century, the mid-century modern look swept through American homes, transforming every room—from living room and dining room to bedroom and office alike. Moreover, true to the Mad Men era, corporate offices were often treated as a home away from home during this time. As such, workplaces were comfortably furnished with lounge seating, bar carts, and other pieces of furniture to evoke of the comforts of home. If you're inspired to bring this look to your own office space, read on to discover design ideas.
Modern Home Office Ideas
How do you style a mid-century modern office? From desks and office chairs to bookcases and storage, here's how to bring mid-century modern office design to life.
Start by choosing office furniture with clean lines and a minimal aesthetic. Look for an office desk in walnut, teak, or birch; or one that combines solid wood or veneer with a durable laminate top. The bestselling Leatherwrap Sit-to-Stand Desk is crafted of wood veneer with an inset writing surface in premium leather.
Then, select additional pieces of furniture to bring the mid-century modern aesthetic to life in your office space. Add comfort to your workspace with a lounge chair; this can function as a seat for guests, a place to read, or a perch for laptop work when you need a change of scenery. The Nelson Coconut Chair offers a playful take on lounge seating—or look to the clean lines of Nelson's Cube Chair. The iconic Eames Lounge Chair, a mainstay in homes and offices globally, delivers back support and exceptional comfort.
Add mid-century modern office storage with modular units like the Eames Storage Unit, beautiful ladder shelving, or colorful, contemporary powder-coated steel designs such as the Story Bookcase.
Find the Finishing Touches
How do you decorate a mid-century modern office?
No home office is complete without proper lighting, artwork, and modern office decor. Give your workspace a modern vibe with iconic Nelson Bubble Lamps. In a wide range of shapes—including classic cigar and saucer shapes—Nelson's translucent plastic-polymer shades diffuse warm, soft light and create a welcoming ambiance.
Enhance your space with other small touches that make a big impact, like a soft rug to add a layer of warmth and comfort underfoot. Alexander Girard's geometric Plus Rug offers a mid-century modern look in three colors of woven cotton. Bring a splash of color to your workplace with wall decor, such as bold pop art posters by George Nelson—or add texture with Girard's Environmental Enrichment Panels. Complete the look with small decorative objects that bring whimsy and visual interest to your office space.
Final Tips
Look beyond your desk and office chair—incorporate furniture that makes your workspace feel welcoming.
Focus on materials and craft: Invest in pieces from Herman Miller that will stand the test of time.
Add modern office decor to create a space unique to you and your personal taste.
Shop all Work From Home designs.