Office Stools Buying Guide
As people spend less time in any one spot at work, office stools have become a lightweight, versatile option for a quick and comfortable seat. Office stools, also called stool chairs, often resemble traditional office chairs complete with armrests and ergonomic back support. These stools are often highly adjustable (including the footrest, armrests and seat depth, as well as recline and height adjustability), so they're comfortable and supportive for a variety of body types.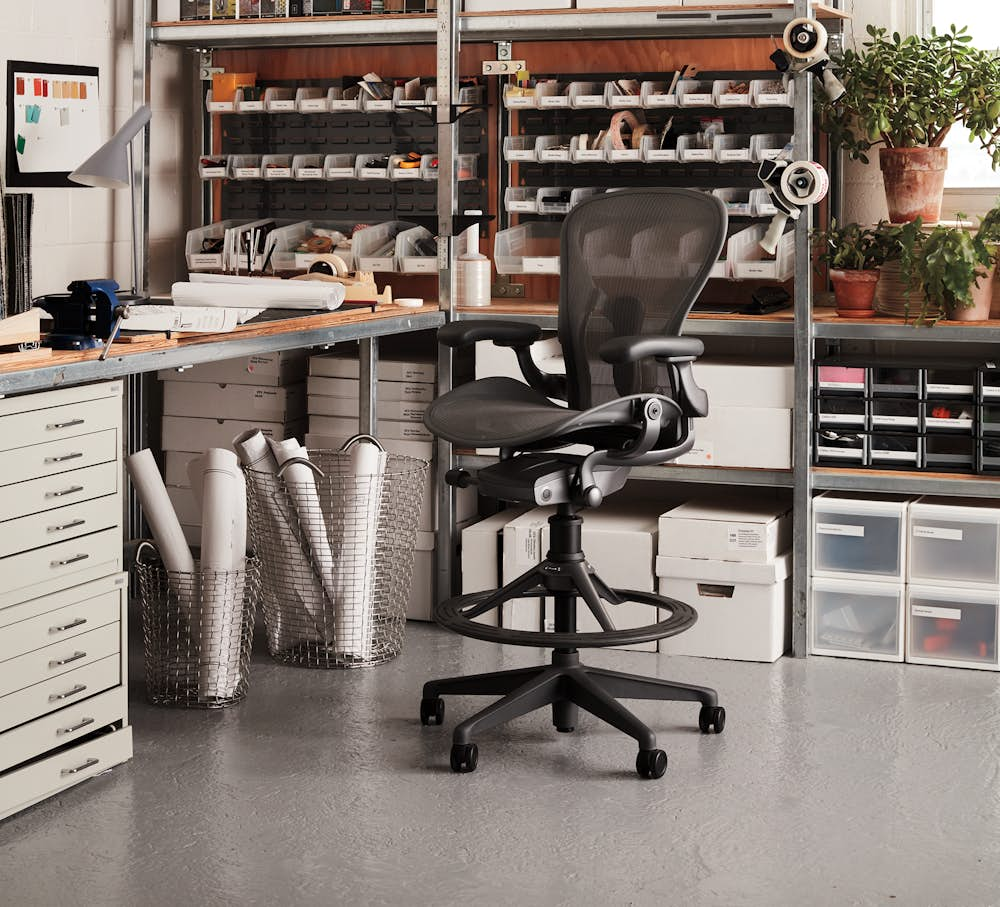 Are ergonomic office chairs worth it?
Ergonomic stool chairs are worth the investment. An ergonomic office stool allows you to sit or perch in a healthy posture, supporting the natural S-curve of your spine. Designs without arms or backs even help strengthen core and leg muscles by encouraging you to support your own body as you sit.
How do you sit on an ergonomic stool?
How you sit on an ergonomic stool will vary based on the style of the stool. Saddle stools put your body into an ergonomic posture, while standing desk stools allow you to lean or perch on the edge of the seat to achieve that same healthy position. Regardless of style, you'll want your feet flat on the floor or on a foot ring for the best support.
Aeron Stool
A stool version of our iconic Aeron Chair, the bestselling Aeron Stool was designed to help you sit naturally and comfortably in the ideal ergonomic position at counter or bar height. To maximize comfort for everybody, this stool is highly adjustable, making it easy to change the height of the arms, footrest, and seat, as well as the depth and recline.

Made with the pioneering Pellicle suspension material and our patented PostureFit SL, the Aeron Stool provides superior back support while keeping you cool. This means your body stays engaged through a variety of postures and activities, allowing you to focus on the task at hand.
Available in two heights: bar and counter
Available in three colorways
Adjustable footrest
Adjustable pivot arms with leather or standard polyurethane foam arm pads
Adjustable height, depth, and recline
Standard 2.5-inch carpet casters
Mirra 2 Stool
Lightweight and responsive, the Mirra 2 Stool supports you as you move between tasks. Built for the person who needs to move and collaborate at work, this stool adjusts as you do to keep you comfortable throughout your day. The Mirra 2 Stool is counter height and comes with two backrest options: the Butterfly Back and the TriFlex Back. The Butterfly Back is dynamic and ultra-responsive, while the TriFlex Back is durable and easy to clean. And with options for adjustable back support, arms, and seat depth, you can customize your stool chair to best fit your lifestyle.
Base frame available in three colorways
Back and seat available in two colorways
Available in two back styles: Butterfly and TriFlex
Adjustable lumbar support or non-adjustable back support
Tilt Limiter and optional Seat Angle
Fixed or adjustable seat depth
Sayl Stool
The Sayl Stool is the office stool choice for architecture enthusiasts. Inspired by the structure of suspension bridges, this stool delivers maximum support with minimal material. The back of the Sayl Stool is unframed and made entirely of elastomer strands. These strands vary in tension, so they maintain a perfect balance keeping your body supported where it needs to be—plus you have full range of motion where your needs are more dynamic. Paired with Harmonic Tilt technology, this stool is for the person that spends time both sitting and moving throughout their workday.
Ergonomic back suspension available in three colors
Base available in two colors
Seat fabric available in nine colors
Adjustable arms, stationary arms, or no arms
Harmonic tilt technology for balance and support
Setu Stool
The Setu Stool is an ideal choice for the dynamic office. Designed to provide instant comfort to the sitter, this office stool works whether you are sitting for a short time or settling down to stay awhile. Lightweight but capable of supporting up to 300 pounds, the Setu Stool can be easily moved to serve multiple purposes around the office. And with a Kinematic Spine, it intuitively responds to provide the support your body needs, where it needs it.
Seat available in nine colors
Frame available in two colors
Base available in three colors
Available with no arms or ribbon arms
Kinematic Spine provides dynamic flexibility
Plastic casters
Is a stool better than an office chair?
Whether an office stool or an office chair works better for you entirely depends on how you use your office furniture. If you need to spend long stretches at your desk, an office chair such as the iconic Aeron Chair might work best. However, if you find yourself switching between tasks or prefer sitting at a counter, an office stool may be the perfect choice.

Shop All Office Stools