An In-Depth Look at the Mid-Century Modern Home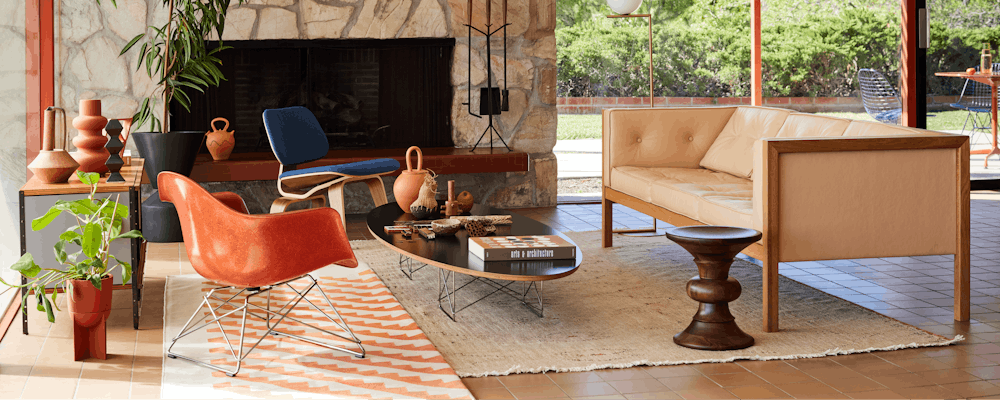 What Defines Mid-Century Modern?
No doubt, you're familiar with the term "mid-century modern design." In recent years, it has taken the design world by storm—but what, exactly, does it mean? What does MCM mean? And what defines this design style?

First, a brief look at the history of the now-ubiquitous modern style: Mid-century modern (often abbreviated "MCM") is a design movement that was popularized in the United States post-World War II, gaining traction during the mid-20th century—from the mid-1940s to late 1960s. During this time, simplicity and functionality underscored art, architecture, and interior design. Homes were architected to be more functional, with open floor plans, family-oriented gathering spaces, and large windows to bring the outdoors in—encouraging more modern and organic ways of living.

Similarly, modern furniture was designed to meet the needs of the average American family and reflect the shift in home design. Gone was the ornate carved wood and wrought iron furniture that had been popular until that time. Instead, advances in science and technology in the first half of the 20th century precipitated the use of innovative—and affordable—materials in furniture design for the modern home.
Masters of MCM Design
The authors of this design movement emerged: In 1940, the Museum of Modern Art hosted a competition titled "Organic Design in Home Furnishings," which Charles Eames and Eero Saarinen won for their collaboration on a chair design. Only five years later, MoMA put on an exhibit wholly dedicated to Charles Eames' furniture designs. By 1999, the Library of Congress put on a traveling exhibit devoted to Ray and Charles Eameses' work, conferring name recognition on the husband-and-wife duo. George Nelson, Eero Saarinen, Isamu Noguchi, and other modern masters were also recognized for their designs during this time.
Defining Characteristics
What are characteristics of mid-century modern design? Simplicity and functionality are inherent to this design style. Multifunctional furniture that conserved space—for example, designs that stacked, folded, or nested—became popular. Clean lines (think tapered legs) and organic, fluid forms that mimic the human form typify this furniture.

Mid-Century Modern Materials
The warmth of natural wood—teak, rosewood, oak, and walnut—takes center stage in many iconic MCM designs. However, innovative materials such as molded fiberglass and plastic were also introduced during the movement.

Mid-Century Modern Color Palette
What colors are mid-century modern? Warm tones, a neutral and earthy palette, and saturated hues.

Mid-Century Modern Patterns
Abstract prints and bold patterns, such as Alexander Girard's graphic Checker, evoke MCM design.
Design Tips
Can you mix mid-century modern with traditional furniture? Absolutely. Combine furniture styles—postmodern or Italian contemporary designs, for example—to create an updated, modern look. Follow these tips when choosing designs for your modern home.
Design a room around statement pieces.
Embrace a natural, minimal aesthetic.
Bring nature indoors—through finishes and foliage.
Incorporate other design styles as well as new and vintage pieces.
MCM Design—For Today's Ways of Living
There are many replicas of MCM furniture, but none compare to the authentic icons. Authentic classics feel as freshly modern today as they did in the mid-20th century—they stand the test of time. With George Nelson at the helm, Herman Miller was one of the first companies to produce modern furniture. Today, many pieces coveted on the vintage market are now back in production.
Discover Iconic Designs for Every Room
For the Living Room
The 1956 Eames Lounge Chair and Ottoman is an icon of modern design. In the '40s, the Eameses experimented with molded plywood, ultimately creating their bestselling Lounge Chair with sculptural, supportive wood shells.

Sculptor and designer Isamu Noguchi designed his eponymous coffee table in 1948. The base is formed by two identical, interlocking pieces of solid wood—available in black poplar, walnut, white ash, or white oak—with an organically shaped glass top.

George Nelson's Cube Collection is another classic mid-century collection. Originally designed for office environments in 1968, it's now back in production—and just as relevant for how we live today.

For the Dining Room
In molded plastic, fiberglass, or plywood, sculptural Shell Chairs combine form and function. Choose a versatile dining table that can double as a workspace, such as the Nelson X-Leg Table with a durable veneer or laminate top.

For the Bedroom
Channel a modern aesthetic in your bedroom with clean-lined designs like George Nelson's Thin Edge Bed, a study in simplicity with its streamlined form and elegant, tapered legs. Add modular, innovative storage featuring a beautiful combination of wood and steel.

For the Home Office
Many mid-century modern desks are just as relevant for today's work environments, from the Risom Desk—featuring a supple leather top—to the iconic Nelson Swag Leg Desk, featuring discreet drawers and cubbies for office supplies.

Complete your desk setup with an Eames Aluminum Group or Soft Pad Chair, in management or executive heights. For more inspiration, check out our guide to MCM Home Office Design.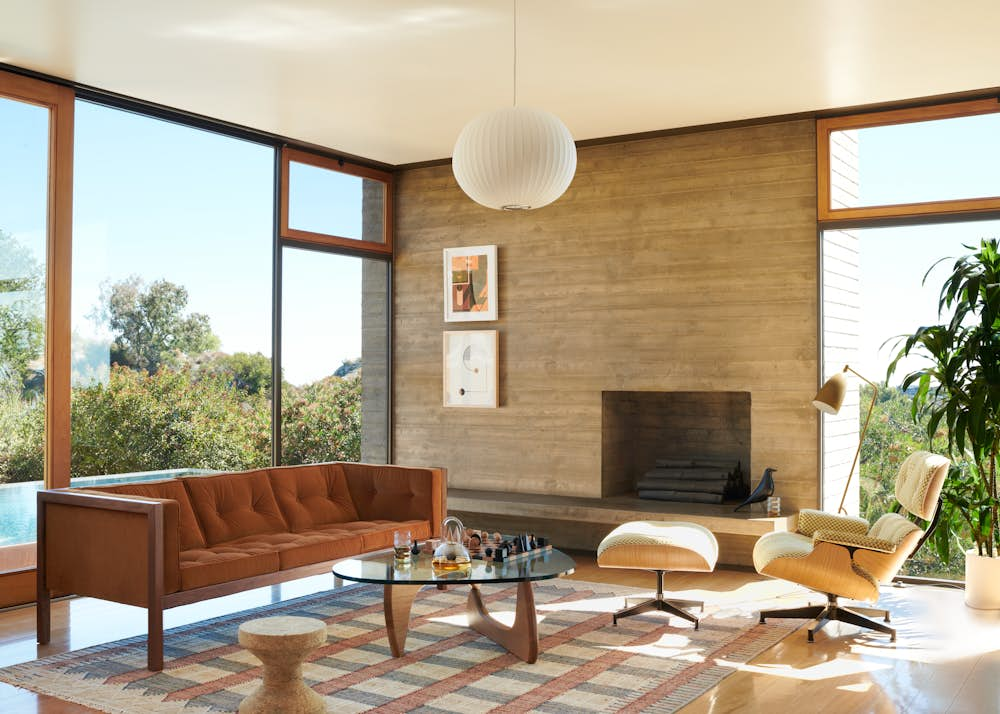 Final Thoughts
Finally, if you're looking for additional ideas for how to style your home mid-century modern, consider home decor. From vintage pieces to authentic reproductions of iconic wall art and decorative objects, bring a modern look to your space through decor, textiles, and more.

Shop all furniture or shop all decor.