GAMING FURNITURE GUIDE
From the occasional player to the seasoned professional, every gamer deserves a gaming setup that will promote peak performance. The key to choosing the best gaming furniture? Ergonomic design. Gaming engages the entire body over long periods of time, so human-centered furniture that promotes a healthful posture and provides long-term, adaptive support is indispensable. While the individual components of a functional gaming setup – a gaming chair and a gaming desk, for example – are crucial to your well-being, the best gaming furniture designs will work together to mitigate strain on your body and help keep you comfortable game after game.

At Herman Miller, shop innovative, ergonomic gaming furniture designed to support your body through even the longest of gaming sessions.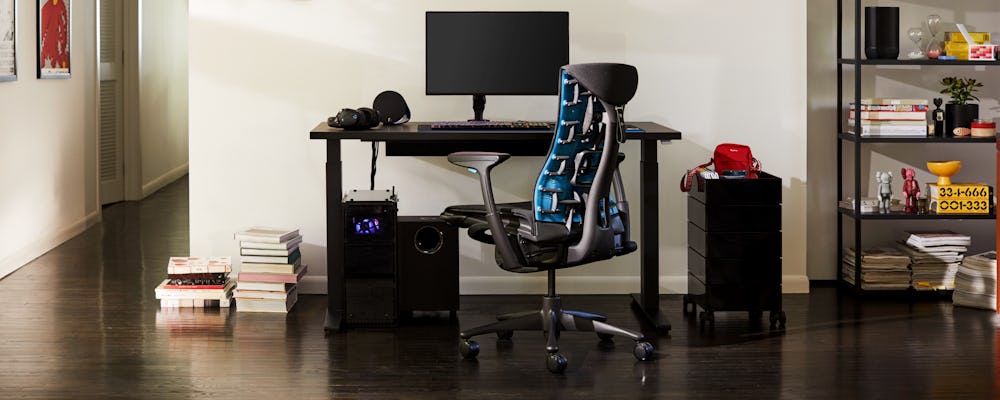 HOW TO CREATE AN IDEAL GAMING SETUP
Start with a desk.
Choosing a computer gaming desk is a great starting point for designing a gaming setup. Depending on your needs, look for a gaming table or a gaming desk with storage components. As you shop gaming desks, keep these measurements in mind: Your desk should be at least a couple inches wider than your monitor, keyboard, and mousepad on both sides. If you use multiple monitors, opt for an extra-wide gaming desk that can accommodate the width of your screens. As for depth, your gaming desk should be deep enough to comfortably support your keyboard and monitor, with a few inches of buffer space between your monitor and the wall – as well as a few inches between your monitor, keyboard, and the edge of the desk. Ample space to rest your arms beside or in front of your keyboard is essential to a comfortable gaming setup that won't inhibit your movement.

To help keep your gaming surface clear of clutter, consider a gaming desk with storage components. Gaming desks with drawers house essentials and keep gaming accessories within arm's reach. Gaming desks with shelves can serve as displays for collectibles, books, game cartridges and cases, and other decor. To store larger items, consider a gaming desk with cabinets. Further optimize your gaming setup with special components, such as cable feeds and organizers, keyboard trays, laptop and monitor stages, and built-in outlets and USB ports.

If you're looking for a top-of-the-line gaming desk, consider the Motia Sit-to-Stand Gaming Desk, a height-adjustable gaming table designed to support heavy gaming equipment with ease. This black gaming desk features built-in cable management and an anti-glare, smudge-proof tabletop. At 62.5" wide and 69.2" deep, it's a spacious option that can accommodate gaming setups of all sizes.

Find your ideal gaming chair.
The best gaming chairs incorporate ergonomic features that ensure enduring comfort and support over long hours. Look for comfortable gaming chairs with lumbar support and responsive or adjustable tilt features that will help you maintain proper spinal alignment – whether you're in an upright, active position or in a relaxed, reclining position. At Herman Miller, shop award-winning gaming chairs, created specifically to support you during active, agile play.

Accessorize.
With the most vital components in place, it's time to decorate and accessorize. At Herman Miller, shop industry-leading gaming accessories by Logitech, including gaming mice, keyboards, headsets, and mousepads. For precise control of your monitors' positions, choose the Ollin Monitor Arm, an easily adjustable monitor arm that holds up to 20 pounds and can help mitigate neck and eye strain. Finally, illuminate your setup with a Neon Tube LED light, available in five vibrant colors that can be mixed and matched to create a customized lighting effect in any room. Shop All Gaming Furniture