WHY OUR ERGONOMIC GAMING CHAIRS ARE THE MOST COMFORTABLE FOR LONG HOURS OF GAMING
When locked in, both casual players and professional gamers sit for extended periods of time while gaming. Often, the negative effects of sitting (back and neck pain, tension headaches, and pinched nerves, among other symptoms) can be felt just a few hours into a gaming session. These symptoms are not only a source of stress, but also a distraction. Thankfully, the adverse effects of sitting are easily relieved with an ergonomic gaming chair. Sleek, supportive, and updated in cool new colorways, Herman Miller's gaming chairs offer unparalleled ergonomic benefits.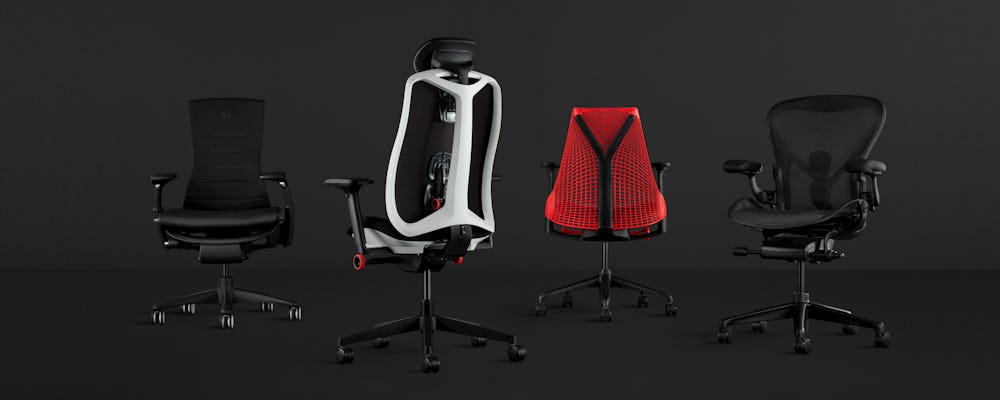 ARE ERGONOMIC GAMING CHAIRS REALLY WORTH IT?
The short answer is: Absolutely. Think about it as an investment in your long-term health. From the moment you sit down in a Herman Miller gaming chair, you can feel the difference superior support makes. An ergonomic gaming chair can transform the way you feel during (and after) an hours-long gaming session. The best ergonomic gaming chairs deliver total support and premium comfort. They're designed to alleviate stress on your body—from your head and neck down to your feet. If you're not playing from an ergonomic gaming chair, you're likely putting unnecessary strain on your body, not to mention inhibiting your best play. Sharpen your competitive edge with a gaming chair from Herman Miller.
SPECS & FEATURES
Most ergonomic gaming chairs have adjustable features that allow you to fine-tune the gaming chair to your body. Players should look for a gaming chair with these specs:
Lumbar support
Height adjustment feature
Adjustable armrests
Swivel seat
Adjustable recline
Casters
Breathable materials
Long hours of competitive play are no match for Herman Miller's gaming chairs. Discover which one is right for you.
AERON GAMING CHAIR
An icon of ergonomic design, Herman Miller's bestselling Aeron Chair has been remastered for gaming performance. Lean into the game without losing control—the Aeron Gaming Chair's adjustable tilt mechanism and unique forward seat angle adjustment deliver total support for your every gaming posture, from leaning forward to reclining. Customized sacral-lumbar support minimizes lower back pain, which can cause fatigue and hinder your focus. Durable, breathable mesh-like fabric keeps you cool and comfortable, while the seat features eight zones of varying tension to help relieve pressure on your legs as you sit. The fully adjustable arms are easy to move, too. Ultimately, the Aeron Gaming Chair can be fine-tuned for a highly personalized fit that empowers your best play.
Comes in two sizes
Onyx colorway is made with ocean-bound recycled plastic
Spinal and lumbar support
Adjustable tilt supports and reclined position
Fully adjustable arms
Swivel seat
5-star caster base
EMBODY GAMING CHAIR
Did you know that the Embody office chair was originally designed with the input of more than 30 physicians and PhDs in biomechanics, vision, physical therapy, and ergonomics? Through rigorous testing and approval, we worked with gamers to expand that research and tailor Embody to their specific gaming needs. In short, the Embody Gaming Chair encourages movement, supports a wide range of postures (from upright to reclined and relaxed), and distributes your weight evenly to aid proper blood flow. Notable for the external spine along the seat back, Embody's seat conforms to your unique posture, promoting better focus, endurance, and agility. Adjust the height and width of the arms for different playing postures, and stay cool thanks to a layer of copper-infused foam that prevents heat buildup.
Comes in two colorways
Tested and approved by gamers
Conforms to your spine's shape
Adjustable arm height and width
Swiveling, height-adjustable seat
5-star caster base
VANTUM GAMING CHAIR
Developed in collaboration with Logitech G, the new Vantum Gaming Chair is Herman Miller's first-ever design made specifically for gamers. Vantum provides superior ergonomic support and adjustability for gaming, streaming, or relaxing. With an active, forward-leaning alignment, Vantum allows you to engage your optimal playing posture from the moment you sit down. The adjustable headrest delivers total support for your head, neck, and shoulders, while a thoracic support pad is ready for you when it's time to press pause. A versatile performance chair that helps gamers reach their peak, Vantum comes in three distinct colorways to complement any gaming setup and style.
Comes in three colorways
First-ever design created specifically for gamers
Total thoracic support
Suspension material for breathable comfort
Adjustable tilt limiter and tilt tension
Chamfered-edge armrests
5-star caster base
SAYL GAMING CHAIR
The Sayl Gaming Chair uses minimal materials to deliver maximum support. We worked with gamers to pre-adjust the chair to the perfect specifications for competitive gaming. Ultimately, Sayl gives you the freedom to move while simultaneously helping you maintain a strong posture without feeling fatigued. The suspension backrest features elastomer strands that not only keep you cool, but also flex gently with your movements. The Sayl Gaming Chair comes in a wide range of colors to complete any gaming setup, and the contoured seat pad offers premium comfort for marathon gaming sessions.
Comes in six colorways
Inspired by the Golden Gate Bridge
Breathable suspension backrest
Total lumbar support
Contoured seat pad
Adjustable arms, seat height, and seat depth
5-star caster base
HOW TO: ADJUST YOUR CHAIR FOR THE HEALTHIEST POSTURE
Prioritizing a healthy posture will help keep your body comfortable and your mind free of distractions. Keep these tips in mind as you fine-tune your gaming chair and adjust your setup:
Adjust your seat height so that your feet are flat on the floor and your knees are bent at a 90-degree angle.
Similarly, your armrests should be high enough for your elbows to bend at a 90-degree angle.
Your desk should be tall enough to comfortably clear your thighs and allow your forearms to rest parallel to the desktop.
The size of your screen in inches is the distance your monitor should be from you. For example, if your monitor is 24" wide, it should be 24" away from your face.
Help prevent eye strain by keeping the top third of your monitor level with your eyes.
Finally, consider adding a comfortable footrest to your setup.
The best gaming space includes an adjustable gaming chair, a sit-to-stand gaming desk, and an adjustable monitor arm. These allow you to tailor each element of your gaming setup for your specific needs, and help reduce pain and discomfort over long periods of sitting.
IF YOU'RE WONDERING, "WHAT'S THE DIFFERENCE BETWEEN AN ERGONOMIC OFFICE CHAIR AND A GAMING CHAIR?"
Herman Miller has remastered icons of ergonomic design for gaming—meaning, these chairs are designed to pivot from work to play. If your game room doubles as a home office, look to the Aeron Gaming Chair, Sayl Gaming Chair, and Embody Gaming Chair for uninterrupted support, whether you're working your 9-to-5 or gaming all night long. Or tap into your power posture with the new Vantum Gaming Chair, designer specifically for gamers. A key element to a complete gaming space, Herman Miller gaming chairs bring ergonomics, comfort, and beauty to the fore. Enhance your performance with a top-of-the-line gaming chair.

Shop All Gaming Chairs