WHY OUR ERGONOMIC GAMING CHAIRS ARE THE MOST COMFORTABLE FOR LONG HOURS OF GAMING
When locked in, both casual players and professional gamers sit for extended periods of time while gaming. Often, the negative effects of sitting (back and neck pain, tension headaches, and pinched nerves, among other symptoms) can be felt in just a few hours. These symptoms are not only a source of stress, but also a distraction. Thankfully, the adverse effects of sitting are easily relieved with an ergonomic gaming chair. Sleek, supportive, and updated in cool new colorways, Herman Miller's gaming chairs offer unparalleled ergonomic benefits.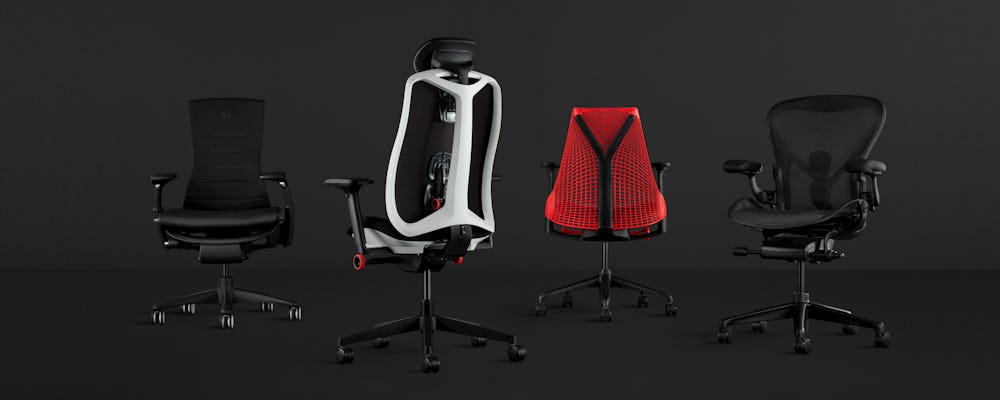 ARE GAMING CHAIRS WORTH IT?
The short answer is: Absolutely. Think about it as an investment in your long-term health. From the moment you sit down in a Herman Miller gaming chair, you can feel the difference superior support makes. An ergonomic chair can transform the way you feel during (and after) an hours-long gaming session. The best ergonomic gaming chairs deliver total support and premium comfort. They're designed to alleviate stress on your body—from your head and neck down to your feet. Ergonomic gaming chairs are particularly good for your back because the seat shape allows your hips to open, your knees to drop, and your spine to rest in its natural S-curve. This means you're supporting your own body weight in a neutral position, subtly engaging your muscles and strengthening your back and core while you sit. If you're not playing from an ergonomic gaming chair, you're likely putting unnecessary strain on your body, not to mention inhibiting your best play. Sharpen your competitive edge with a gaming chair from Herman Miller.
SPECS & FEATURES
Most ergonomic gaming chairs have adjustable features that allow you to fine-tune the chair to your body. Players should look for a gaming chair with these specs:
Lumbar support
Height adjustment feature
Adjustable armrests
Swivel seat
Adjustable recline
Casters
Breathable materials
Long hours of competitive play are no match for Herman Miller's gaming chairs. Discover which one is right for you.
AERON GAMING CHAIR
An icon of ergonomic design, Herman Miller's bestselling Aeron Chair has been remastered for gaming performance. Lean into the game without losing control—the Aeron Gaming Chair's adjustable tilt mechanism and unique forward seat angle adjustment deliver total support for your every posture, from leaning forward to reclining. Customized sacral-lumbar support minimizes lower back pain, which can cause fatigue and hinder your focus. Durable, breathable mesh-like fabric keeps you cool and comfortable, while the seat features eight zones of varying tension to help relieve pressure on your legs as you sit. The fully adjustable arms are easy to move, too. Ultimately, the Aeron Gaming Chair can be fine-tuned for a highly personalized fit that empowers your best play.